Match Report
The Northern Allstars football team, which graced the fields of Grove Farm between 1989 and 1991, and which always threatened to reach mid-table mediocrity in the University Sunday League, staged their second reunion football match on Saturday 13 June at the Highfields Sports ground.
Despite the plush surroundings (the perennially hostile sub-climate of the Gtrove Farm industrial estate was always a bonus), and borrowed kits (the infamous shirts bearing slogans denigrating large sections of the country have long since ceased to fit most players), a fine match was enjoyed by all.
Surprisingly, almost two complete sides were assembled with only the small contingent of players still based in Nottingham failing to arrive. This, however, neatly echoed the pattern set on those former windswept (and hungover) Sunday mornings, when it was a notable achievement to muster one fully conscious set of eleven from their Lenton abodes.
Ugly rumours that former boss Sid McKinlay's team won 5-1 remain unconfirmed, and are thought to have stemmed from his euphoric state at actually arriving at the game prepared with a match ball.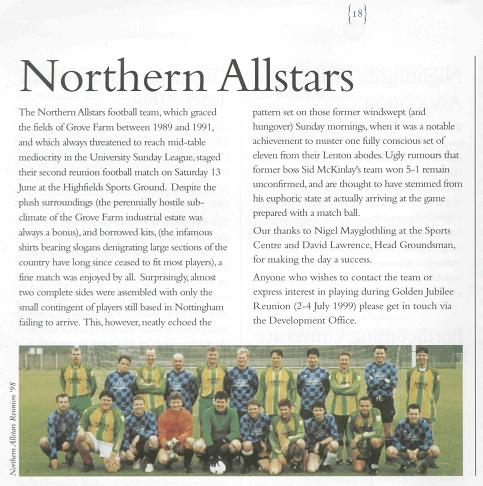 The match report and squad picture, as they appeared in the University Magazine.