Born: Skegness, 5th August 1948
Height: 6ft 3ins
Club Honours: 3 European Cups, 5 Championships, 2 UEFA Cups, 1 FA Cup, 1 League Cup and 1 European Super Cup (Liverpool)
1 FA Cup, 1 UEFA Cup and 1 Cup Winners Cup (Tottenham)
International Honours: 61 Caps for England
Other Honours: MBE
Clubs: Scunthorpe, Liverpool, Tottenham.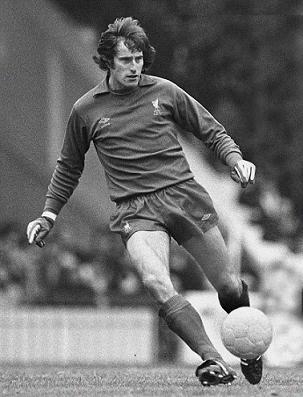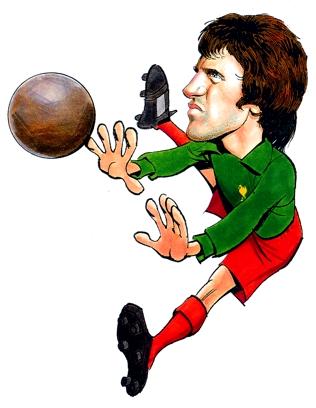 Arguably the most successful goalkeeper in British football club history, Ray Clemence became one of an elite five in August 2001 when he was honoured with a new award to those who have played in 100 or more UEFA club competition games since 1955.
Clemence started life as a humble deckchair attendant in his hometown of Skegness. Born on 5 August 1948, he took his inspiration from World Cup winning England goalkeeper Gordon Banks. He started his career playing for his local team, Skegness Town, before moving on for a trial period at Notts County.

In August 1965, Clemence joined Scunthorpe United, but had to wait until April 1966 to make his debut for the club in a 1-1 draw at home to Swansea City. He went on to play a further three games that season with Geoff Sidebottom keeping him out of the first team. But the following season was a different story; Clemence missed the opening two games but then finished the rest of the season as United's number one.
He had played 48 League games for Scunthorpe United when Bill Shankly brought him to Liverpool in June 1967 for a fee of £18,000, which is considered to be "one of the best ever bargains". Legend has it that Shankly told him that Tommy Lawrence was older than he was so Clemence would think he would soon be first choice goalkeeper.
In fact, Clemence had to spend a long time in the reserves. But his persistence paid off and was given his full League debut in a 1-0 defeat at Nottingham Forest on 31 January 1970. By the end of the season, he had established himself as first choice keeper.
Despite his consistency in goal, he was sometimes at the receiving end of Shankly's scathing tongue. After one game, when Clemence had let in a fluke goal between his legs, he reportedly turned to Shankly and said: "Sorry, boss, I should have kept my legs together." Shankly replied: "Wrong, it's your mother who should have!"
Clemence makes regular appearances in goal for the fans' Liverpool Best XI. This may be as much to do with the timing of his career, as well as his undisputed ability. He was fortunate enough to appear in a Liverpool team with a solid defence and he realised it. Describing his role at Anfield, he reportedly said: "Sometimes I feel like I am hardly wanted in this Liverpool team. If I get two or three saves to make I've had a busy day." At different times during his Liverpool career, he played behind Emlyn Hughes (ex-Blackpool), Alan Hansen, Mark Lawrenson and Phil Thompson.
When he joined, Liverpool were going through a transitional period and his consistency in goal contributed to Liverpool's domestic and European dominance from 1977 up until his departure in 1981. One fan describes him as the "colossus between the posts during the era when Liverpool transformed from also-rans to Kings of Europe under Shanks and Paisley".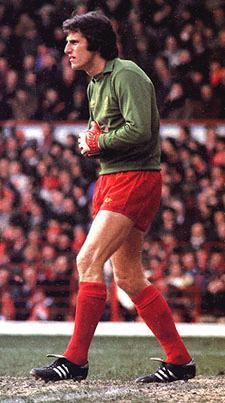 Classic Liverpool pose.
Ray in all his glory as a player was a highly agile, super-consistent goalkeeper, who was lightning quick off his line. Ray played a remarkable 1,200 senior games in 23 years, 124 of which were European, a club record for Liverpool. Clemence's goalkeeping abilities led to him winning 61 England caps and this would have been even higher had Peter Shilton not been around at the same time.

Arguably though, Ray's career highlight took place on Sat. 5th July 2003 after coaching the England U19 squad at Grove Farm, Nottingham.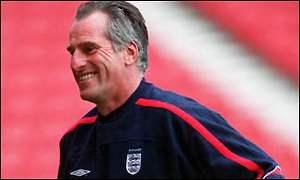 His managerial career saw him take over from Barry Fry at Barnet at the beginning of the 1995-1996 season. They had just been relegated to the third division after finishing bottom of Division Two. Again, he failed to turn things around and his time as manager only lasted a season when Alan Mullery replaced him.
Clemence left on the first day on the 1996-1997 season, joining Glenn Hoddle in the England set-up as goalkeeping coach - a position he still holds today under Sven Göran Erikkson.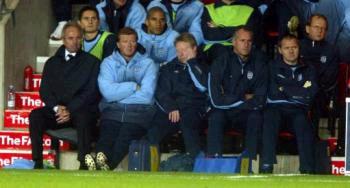 To return to Allstars 2003, click here.
In 1981, Clemence decided to draw a curtain on his Anfield career by joining fellow Division One side Tottenham Hotspur for £300,000. He made his debut for Spurs aged 31 in August 1981 in a 3-1 win at Middlesborough. But his return to Anfield was not a happy one; Spurs lost 3-1.

One of the last games Clemence played in top-level competitive football for Spurs was in the 1987 FA Cup Final against Coventry City. Spurs lost 3-2 and he was partly blamed for two of the goals. At the beginning of the 1987-88 season, just before his 40th birthday, an Achilles tendon injury forced him to retire from playing football and he took up a coaching role at Spurs.

Together with Doug Livermore, Clemence took over the managerial role at Spurs from Terry Venables at the start of the 1992-1993 season. But Spurs won only 16 of their 42 league games and the final humiliation came as Spurs were crushed 6-2 by Liverpool at Anfield. With the backing of fans, Alan Sugar replaced them with Spurs legend Ossie Ardilles.