Each team demonstrated wild and spontaneous enthusiasm before kick-off.
After a first season in the University Sunday League under the management of Sid "Captain Crap" McKinlay, squad members revelled in anticipation of a match free from the worries of maintaining mid-table mediocrity, and whether Sid would turn up with the match-ball.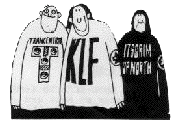 To return to Allstars 1991, click here.