There is no finer, or more dramatic, backdrop to a football game than the Grove Farm industrial estate. However, whilst the rest of the UK basked in summer sunshine, Nottingham's finest sports fields were clouded in gloom, with the constant threat of a partial hurricane only seconds away.
Goal-mouth action from an Oldstars corner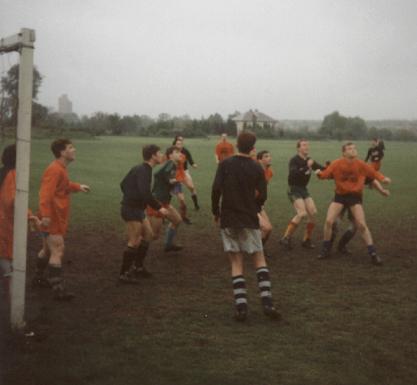 Goal-mouth action from a Newstars corner, as referee Dave Bigland (and a spectator or possibly linesperson, Claire Wigginton!) look on.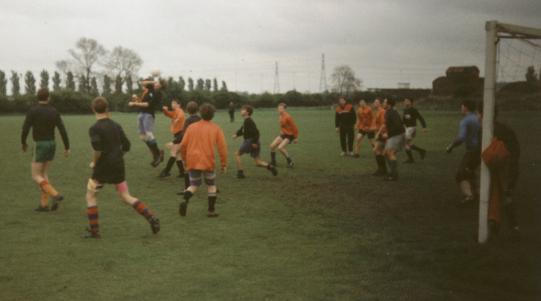 Clash of the Cookie brothers. Thankfully for Duncan (away from the action surprisingly, top right in the red shorts), Biggers (off camera) hasn't noticed his pirouette practice. Red card offence.
To view the evening's party photos, click here.
Centre-forward/left-back, Cookie, appraises the effectiveness of a rare Newstars corner. Sheff wisely guards the back-post behind Sid. Always a good idea to protect any area between Sid's posts, as this was the one area he often neglected to cover.