Match Report
Twenty minutes to kick-off at Highfields and the heavens opened. Not to the sound of a supernaturally booming voice exclaiming Sid and Mince as the chosen ones, but with the torrential downpour of another sadly typical English summer. One can only wonder at the climatic calamities Grove Farm was exposed to at this moment in time.
The Allstars are made of stern stuff though and, undeterred, donned their respective kits in the Sports Centre changing rooms, eager to demonstrate the skills and fitness they had accumulated in the previous twelve months.
Another healthy double-figures turn out on the Allstar "terraces", but these very same spectators justifiably became agitated at the bizarre delay in kick-off. Quite content to witness the rituals of the team photo and Champions League handshake, they baulked at what will become known as The Dance of the Allstar Goalposts. At the suggestion of some covert genius on Team Sid, the goals were initially brought in 20 yards. This was designed to save on playing area, given the reduced nine man teams, but it become immediately apparent that such a move only served to sow confusion, amongst the plethora of painted pitch markings. Eventually, a full-size pitch was restored, forty minutes each way agreed to, and the embryonic crisis was over.
A cagey first half, exemplified by resolute and desperate defending in equal measure. Recent fatherhood had obviously reinvigorated the talismanic Big Jez, who played the libero role from the heart of Excalibur defence. It was clear though that many Allstars had been putting some effort in down the gym displaying an often distressing amount of speed and general fitness. None more so than Craig McKinlay who, not content to make overlapping runs from the left-back position down his own wing, succeeded in troubling his rival left-back down the opposite right wing. Quite extraordinary, but ultimately worthless, as Cookie pounced on the break to slam a left-foot shot in off the post and keeper Ash's head, à la Rooney. 1-0 to Team Sid.
In time honoured fashion though a marvellous piece of Hawkins skill soon levelled the scores. Ten yards outside the penalty area the young doctor, teed up his own left-foot volley into the top corner of the net, leaving Sid blamelessly rooted to the astroturf. A series of corners for Excalibur then came to nothing, and at the other end Graham Jackson was out-psyched by Ash in a one on one situation. And so the score remained 1-1 at half-time, with all to play for.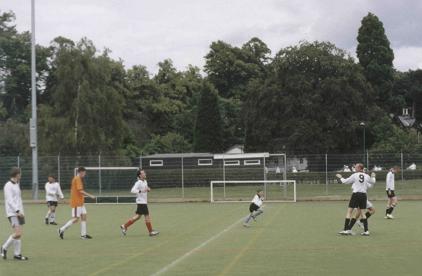 Without wishing to invoke further religious imagery it has to be said that all hell broke loose in the second half. Tactical wariness gave way to gay abandon, as Team Sid streamed forward in determined and threatening attack on the Excalibur goal. Whether by fair means (Graham's mesmerising step-overs that made Old Trafford's Portuguese princess look butch) or foul (Si Heath's well-practiced assaults from behind), Mince and team were on the back foot.
In an uncanny reversal of the first half though, Team Excalibur were gifted the lead, when a hopeful punt come cross by Shaggy wandering down the right-wing, avoided the clutches of Sid at his near top corner. Just like old times, and quite galling for Mince who had, only seconds earlier, seen a right-footed drive parried away athletically by his goalkeeping nemesis.
Sid honourably substituted himself into an outfield role, and fuelled by many a month's triathlon training, lead by example, urging his team to reply. And what a reply. Not wishing to be outdone by Jack's first half strike, Si Heath triumphed over his Black Country footballing inheritance, and planted an almost identical long range shot past a stunned Ash to equalise.
The next 5 minutes passed in a horrific haze, with Team Sid somehow emerging 4-2 up, courtesy of a Cookie close range toe-poke, and a shocking piece of Triathlon Kid nut-megging opportunism. As the game approached its final five minutes, a repeat victory for the Whites looked assured, as John Gilligan, new boy Spike, and their defensive allies stood resolute, even surviving a penalty appeal by Marc Mullen.
Cometh the hour though, and cometh the man. Jack Hawkins, beats a couple of men, looks up, takes aim, 3-4. One minute to go, and Team Excalibur, Sid's raucous goal celebration still ringing in their ears, pressed forward like men possessed. Another goalmouth scramble, and the ball emerged on the edge of the penalty box. It fell to the feet of the young, now flying, doctor. The inevitable hat-trick ensued, and Team Excalibur celebrated en masse. Some swift timekeeping by Si Waters, and the match ended level on scores, 4-4. Then came the dawning realisation amongst the players. This year, the penalty competition would count…
As if to prove the astronomical laws of gravitational pull exerted by large (yet heavenly) bodies, Lev, Craig and Greenie orbit each other at the side of the pitch, Si Heath can't believe it's going down to penalties, whilst Si Waters' unerring eye for the camera remains undiminished.
Si would go on to collect the Golden Boot award, impressing the judges with his overall performance improvement. He would, though, not be the only Allstar receiving an award this year.
Note: for legal reasons this match report above will not appear in any edition of The University Magazine.
To see the Penalty Competition, click here.
To see the Special Award Ceremony, click here.
To return to Allstars 2004, click here.