A grass pitch ban for the Allstars, meant astroturf for the second time. By Friday 2nd July, an 11-a-side game was planned, but come the following morning 4 potential Allstars had dropped out. Various excuses were made, but none could top the now customary letter of explanation from Jim Higginbotham. However, neither the depletion in ranks nor a pre-kick off torrential downpour could dampen Allstar spirits.
Man of the Match award.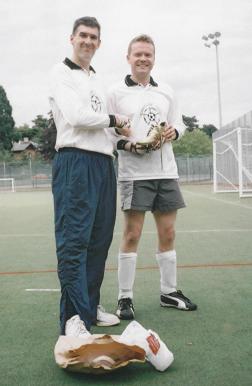 Si Waters receives his own Golden Magic Boot.
To see rest of the award ceremony, click here.
Game and penalty competition over, the Allstars retired to their traditional post-match watering hole, The Priory on Derby Road.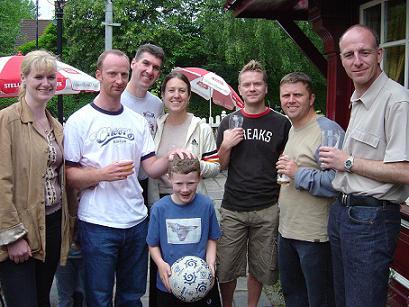 For the full match report, click here.
To see the penalty competition, click here.
To view the night out, click here.