Northern Allstars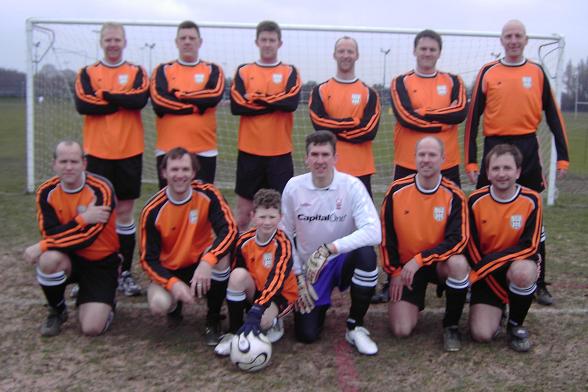 Back Row: left to right:
Mark Ness (16) ;Dave Eslick (4); Grant Murgatroyd (11); Simon Fielding (7); Jeremy May (5); Ian Cook (9).

Front Row: left to right (kneeling):
Andy Dodd (15); Jack Hawkins (10); Andrew McKinlay; Grant McKinlay (14); Dave Holburn (6); Marc Mullen (12).
Squad numbers in brackets. Nos. 15 and 16 were loaned. John purchased No. 3. The numbers 2 and 8 will be collected at the official reunion in July by Mark Baker and Graham Jackson, respectively. Thanks to all who bought the kit.
Peterborough Reunited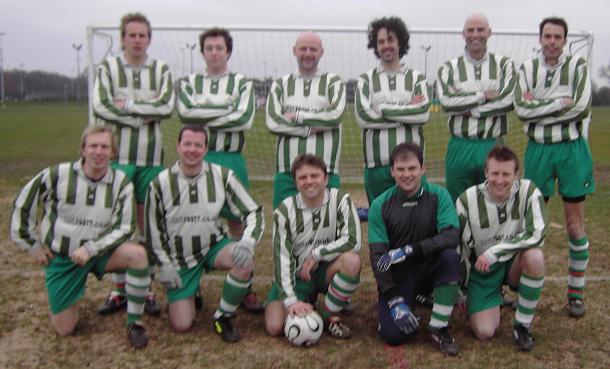 .
Back Row: left to right:
Nathan Steele, Nathan Evans, Neil Wallace, Billy Zaidi, Chris Brook, Al Greenwood.

Front Row: left to right (kneeling):
Simon Walls, Michael Bushby aka "Sid's Mate", John Gilligan (capt), Kevin "Shaggy" Shakesheff, Jon Thrower.
John Gilligan's Match Report
The game began many months before kick off when Simon suggested that I get a team of staff from Arthur Mellows Village College together to play the Allstars, so that we take advantage of our fitness while we still have any. An easy task one would imagine considering we frequently get 14 turning up for 5 a side every Friday and have played the pupils or other schools regularly, but when push came to shove the task was very difficult. In fact, by Friday 17th March we had anywhere between 7 and 12. Honestly! Our star player, Nathan Steele, the centre of midfield who does work at the school (and whose younger brother is 3rd choice keeper at Man Utd) was sick all day Friday and so was a serious doubt, as was, therefore, Billy, who was getting a lift with him.
Saturday arrived and the calls started arriving. Nathan fit enough (despite vomiting out of his car window en route) and nephew Nathan (centre half) had arrived from Bristol 6 hours late following a broken down car and a forgotten bag which was returned for.
Still, we all made it and, as the Peterborough Re-United team assembled, mumblings started as to the size of the Allstars team. Have you ever realised how tall you all are?!
The Peterborough team were mainly friends of mine who I had worked with at my school, only 3 current staff were there so the accusations of regular training sessions levelled at us in the Pitcher were truly unfounded. As we got changed I was very worried that they might have made the trip in vain as I knew the calibre of the Allstars team, the best of Team Sid and Excalibur combined, and in new kits…………..! I did my best to outline the danger men, but nobody knew who anyone was so that was irrelevant really.

It was time to play. We played against the wind first half which I think was the decider. Going a goal up, being pulled back to 1-1 but going in 2-1 up was the clincher. Fitness told in the second half as the Allstars kind of slipped away. Shaggy spent the time complaining about his arms aching which was the last place I expected him to moan about! Then, the third goal clinched it. It could have been more but I put myself up front so it was unlikely. I was genuinely surprised and impressed with the standard of play by Peterborough Re-United as we had never played before together and some who told me they could play actually could (contrary to my beliefs). The first half was very hard fought with many committed challenges going in, perhaps a referee would have helped, especially to keep Dave Holburn quiet. It was played in a good competitive spirit though.

The win was down to my tactical awareness and man management basically. A string of talent down the middle and two intimidating baldies up front. That's the secret!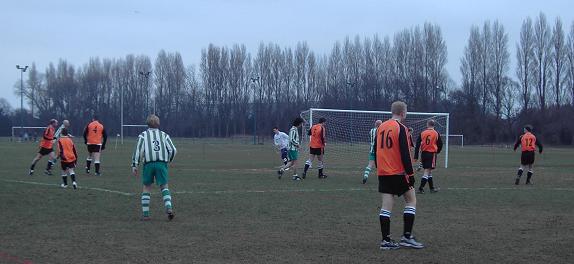 The first goal went to Nathan with a well crafted dribble and shot followed by a Ronaldhino type cross/shot, (immediately copied by the Allstars left midfielder Jack). The match was sealed by our Shaggy's deflected shot making it an own goal. 3-1. A fair result that I was certain would be the other way round the night before.
Did you feel tired lads? Well don't worry, the girls on the touch line were impressed. All 3 of them!
Shall we do it again?
John Gilligan (aged 36)

Match Stats:
Score: Northern Allstars 1 - 3 Peterborough Re-United
Attendance: 6
Conditions: Very windy and chuffing cold
WebMaster's Comments
A fairly accurate summary of the game, it has to be admitted. Whilst the Allstars equalised with a stunning shot from Dr Hawkins, we never really stood a chance after we failed to secure any more goals with the wind behind us in the 1st half. Once I failed to clear off the line the shot over Sid for Peterborough's 2nd goal, the game was effectively over. Peterborough continued their neat midfield passing game in the 2nd half, and somehow only managed to add a single further goal, via a bizarre Allstars deflection, despite virtually setting up camp in the Allstars half.
The big news from the whole day though was when the player from the 1996 reunion game, who has always been known as "Sid's Mate", was uncovered as one Michael Bushby, a Nottingham graduate and friend of John's. Bring on Andy Nockton in July...
Still, the Allstars proved their mettle by trouncing John's boys, both in the post-match penalty competition, and in the drinking later that evening in the Pitcher &Piano, and in the various Cookie Clubs (old and new) of Nottingham.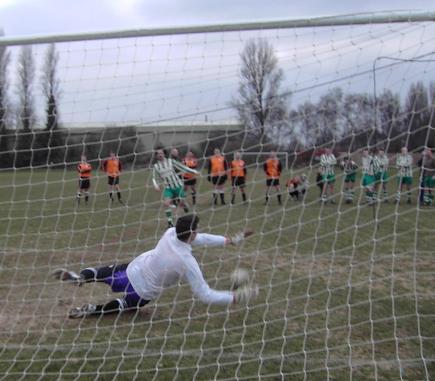 Postscript: The WebMaster can only apologise for his alcohol consumption. He was actually asked by one night-club bouncer to walk along the street and back so he could assess his level of intoxication, before he considered letting him in. How humiliating!? Then in the early hours of Sunday morning, the WebMaster proceeded to spend 10 minutes trying to get into room 212 of the Holiday Inn Express, whilst Sid awaited him in their twin room, numbered 112!
To return to Allstars 2006, click here.