Back Row: left to right:
Mark Ness; Nathan Steele; Dave Eslick; Neil Wallace; Grant Murgatroyd; Billy Zaidi; Jeremy May; Al Greenwood; Ian Cook.

Middle Row: left to right:
Nathan Evans; Jack Hawkins; Jon Thrower; Marc Mullen; Chris Brook.
Front Row: left to right (kneeling):
Simon Walls; Simon Fielding; Michael Bushby; Andrew McKinlay; Grant McKinlay; John Gilligan; Dave Holburn; Kevin Shakesheff; Andy Dodd.
There had always been talk of an extra Allstars fixture whilst the flesh was willing, and so in honour of John Gilligan's 36th birthday, the Northern Allstars played their first competetive game on the 18th March since 1992. The opposition was assembled by John from friends made during his teaching career in Peterborough, plus the odd sneaky family member and ringer.
The Allstars flattered to deceive in their new Tangerine & Black JJB Teamwear kit, eventually going down 3-1 to the superior (and only slightly younger on average) Posh team.
For the match report, and action shots, click here.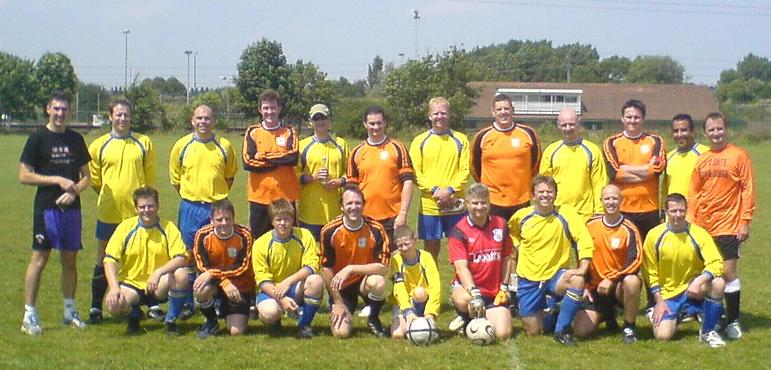 Back Row: left to right:
Grant McKinlay; Gary Boydell; Grant Murgatroyd; Graham Jackson; Craig McKinlay; Mark Ness; Dave Eslick; Neil Wallace; Jeremy May; Mo Aswat; Marc Mullen.

Front Row: left to right (kneeling):
Chris Hughes; Dean Shaw; Jack Ness; Jack Hawkins; Andrew McKinlay; Alan Freeman; John Gilligan; Dave Holburn; Michael Bushby.
A blistering hot day, an early 12:30pm kick-off, two Soviet Onions delayed, the return of "Sid's Mate" after 10 years, 5 debuts, both captains unable to play, and Team Sid emerging victorious. This was clearly no ordinary Allstars reunion game. Sid's foot injury and the WebMaster's 24-hour super-bug temporarily ended one of the longest running 'fueds' in football history, but their Tangerine and Yellow representatives braved the heatwave prior to England's World Cup Quarter-Final against Portugal in the afternoon.
The WebMaster was consulted on his sick-bed back in Preston prior to kick-off, and gratefully received news from the match, the Allstars' spectating experience at Via Fossa, and a round-table evening conversation from a Chinese restaurant in Nottingham.
For the match report, and penalty photos, click here.