Another English summer, and another rainy wind swept afternoon at Grove Farm welcomed the two teams for the annual Allstars fixture. The early date of the match to accommodate Sid's burgeoning international triathlon commitments. Despite a depleted squad of 18 for the game, Allstars 2008 witnessed notable and exemplary travelling efforts, and the welcome return of heroes from games past.
Kane Horton, former University of Nottingham centre back and captain of Lenton Hall 1st XI, arrived from nearby Hinckley, eager to start an Allstars fixture for the first time in a decade. However, special travelling accolades have to go to John Gilligan (arriving the same day he returned from supervising a school holiday, complete with a full set of kits) and Steve Henderson (making a day round trip from the south coast before going on holiday). They certainly gave Duncan Perrin's claim for recognition of efforts made an air of petulance.
Back at Grove Farm for the first time since 1996, the Bathless One seemed to think partying in Tripoli until 3am that morning, before boarding a plane to Rome, crossing the Eternal City to another airport in order to catch a connecting flight to East Midlands airport, and finally hurling himself and a spare pair of boots into a taxi to arrive 30 minutes prior to kick off, warranted some kind of communal applause. Not sure Duncan has ever driven down the M6 from Lancashire at the weekend before. Get a grip, lad.
After the game, most of the Allstars had a quick refresh in the Rose&Crown, before meeting up early in the evening at the Via Fossa by the canal-side for some food and drink, and a visit from Chemistry and Management legend, Lucy. The group then moved on to its usual haunt, the Pitcher & Piano, which had thankfully forgotten last year's ban on Max.
Ambitious plans were hatched to replay the John Gilligan Birthday game in mid-March 2009 in Peterborough, and play abroad in the summer of 2011 upon the 20th anniversary of most Allstars' graduation year. With Simon Waters in LA, and Duncan now in Malaysia, there are some exotic options, but the favourite destination (cheap flights and accommodation etc.) appears to be Spain, for a game against a Danny Jones select XI in Valencia.
Later on, a hardcore of revellers carried on into the early hours. One group (Max, Billy, Jez and Shaggy) ended up in the Sapna Indian restaurant, whilst Excalibur and Rich had a lovely dance in the Cookie Club.
Until next year, and the best of luck to Gary and Steve who should already be working on their evening pass outs!
Perhaps back to Jongleurs or the like, unless others have a better idea for the evening soiree?
Or somewhere classy to eat like the Tokyo restaurant Max visited last June?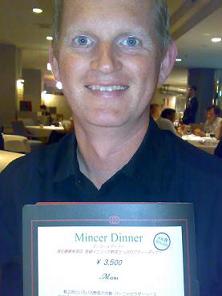 For the full match report, click here.
For the award ceremonies, click here.
To view the penalty competition, click here.