Match Report
Once again all traditional pre-match rituals were faithfully observed by the Allstars. Incoherent assembly in respective dressing rooms, match strategies hurriedly articulated in a manner that make Dubya's murderous grab for oil look positively well rehearsed, non-existent muscle warm-up and stretching, champions league handshake, squad photo, amateur goal net construction, and Shaggy's last minute insistence the game finish 5 minutes after kick-off.
Negotiations over match length over (a radical decision to play 45 minutes each way), the 2008 game kicked off in an unusual way. Traditionally, The Artist Formerly Known as Mince attempts a shot against Sid straight off, but that was a risky option this year given both were on the same side, teams having been selected on the basis of Tangerine & Black 2006 kit ownership. Duncan was awarded the spare no.15 kit in honour of his saunter from North Africa.
A combination of full size pitch, 9-a-side teams, non-hazardous tackling, and many legs and lungs struggling towards their 40th year, enabled one of the most open, free flowing, and enjoyable games in Allstars' history. Once Excalibur and Jez in the heart of the Tangerines defence accustomed themselves to the shock of facing Sheff as the Blues centre-forward, they managed to contain his striking partner, Stevey H (copyright Steve Maclaran), to only 10 clear cut chances in the first half, including one cheeky lob which had Sid struggling to grasp. Miss-hit shots, desperate tackling, Jez's ill-disguised attempt to plant Sheff into the turf, and the odd flash of goalkeeping brilliance from Sid kept the ball out, and provided the Tangerines with a platform for their own attacks. Special mention must be made for one particular Sid save where he flung himself to his left and tipped a Steve shot, connecting with a long-range throw from Gary, round the post.
Playing a fluid 'total football', the Tangerines' apparent 4-3-1 formation would quickly morph into a 2-4-2 as Excalibur in a libero role, and wing-back Andrew McKinlay belying his tender years, supported John in midfield, otherwise exposed when Duncan and Jack threatened both Blues' flanks.
Unsurprisingly, it would be QMC's finest who would break the deadlock. An uncharacteristic right-footed shot, as he cut inside, low to and beyond Captain Billy the Fish's outstretched right hand. It would be the Tangerine's right wing that then started to slice through the Blues, with neat link up play between John and Duncan, allowing Excalibur to swing in a cross that was just too high for an unmarked Ginger Predator, Shaggy. The Blues' didn't learn from this lesson though, as shortly after a very similar move down the Tangerine's right resulted in a stranded Kane only able to watch Shaggy plant his header in the net with aplomb. The game ebbed and flowed for the remainder of the half, as the Tangerines enjoyed more possession, but the Blues' squandered more gilt-edged chances to leave the half-time score at 2-0 to the Tangerines, just as the crowd arrived.
Half-Time Score: Team Sid & Excalibur 2 - 0 Team Billy
The excellent standard of the game, and the manner in which it was played, continued in the second-half, as the Blues' pressed forward in search of reply. Max and Rich on the left-hand side of midfield started to snuff out an increasingly jet-lagged Duncan's right-wing threat, forcing the British Councilman to retreat. Shaggy would've started to feel isolated if Excalibur hadn't started to stretch the boundaries of his libero role (urged on by cries of "Daddy, kick ball" from the sidelines) by spending large periods of the game alongside him up front, incapable of returning back to defence despite the strict instructions of Andrew.
It is worth reflecting at this juncture the performance of the Tangerine's primary school attending wing-back, who not only caused his Uncle Craig a few defensive problems, but was a serious contender for the man of the match. Indeed, quite often the Blues had both Craig and Michael shadowing young Master McKinlay down the left-hand side, as he continually threatened to link up dangerously with Jack.
Nevertheless, it was Shaggy who would provide the main incident of the second-half. Early on, a Tangerine flavoured punt up field found our Scooby snack fixated friend attempting to control the ball Cruyff-like all alone near the centre circle. Attempt is the key word here, as Shaggy actually pirouetted on said ball with both feet, tumbled to the ground in a heap, emitting cries of anguish unheard of outside Queen Mary's preparatory private school for girls. Unabashed, our ginger warrior would display further signs of foolhardy bravery when challenging for a 50:50 ball later in the game with substitute Blues' goalkeeper Gary. Similarly, an awesome, but entirely fair, 50:50 between the dominant defensive force of Kane and the unstoppable momentum of Johnny G caused an audible gasp of relief around the pitch, when both players picked themselves up unscathed and ready to resume battle.
None of this could overshadow Stevey H's continued threat up front, building on a 1st half-display that included a masterful spin turn and nut-megging of Mince, but which amazingly only resulted in the one goal. Again it involved a nutmeg, this time of Deslick, after Steve had picked up a weak clearance from Sid, consequently passing the ball into an open goal.
The Tangerines pushed back, and were awarded a direct free-kick just outside the penalty area. Mince stepped up manfully, and placed a right footed curler towards the top left hand corner of Billy's goal, but the silver-haired Lothario wasn't to be beaten on this occasion, tipping the ball out for a corner.
The Tangerines continued to push forward, fuelled by John, the midfield dynamo, and had a strong claim for a Gary handball in the penalty area, which must've given him the idea of actually going in goals later.
To say the Blues' equaliser midway through the second half was stunning would be an understatement. A certain self-styled centre-forward from the Greater Rotherham region, beat Jez to a defence splitting pass from Steve, trapped it with his left foot before unleashing a deft right-footed lob well beyond the reach of Sid into the top corner of the goal.
The last 15 minutes saw the Tangerine's make a tactical switch, swapping Dave's tiring legs with Sid's over-trained ones. It had an element of the inspired about it though, for despite Max out-stripping Sid for pace on a couple of occasions, The Deslick made a couple of truly outstanding diving saves to deny the Blues' a winner. Right at the death, the Blues' forced a series of right wing corners. With Andrew assigned to mark Sheff, each was competently cleared by a Tangerine team resigned to sharing the honours.
Final score: 2-2.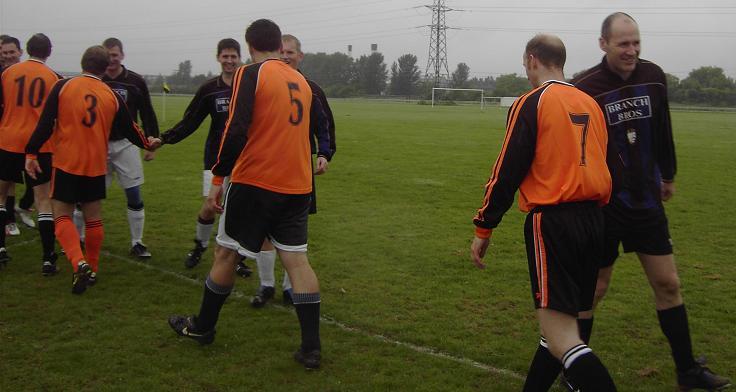 Note: A 25 minutes DVD of the game now exists from the second half, but fails to record either goal, and focuses on the attempts of the crowd to keep warm and dry.
A fair match result overall, and one is tempted to declare that one need not concern oneself with the result of the traditional post-match penalty competition. Suffice to say, The Blues somehow managed to score all 9, whilst Jez and John missed theirs for the Tangerines. Jez found the pressure at being 4-2 down too hot to handle, and gave the Cherry tree behind the goals a fair test of its durability. John demonstrated the power of negative thinking, after informing the Allstars he always misses, electing to play a pitching wedge shot against Jez's Cherry tree.
Note: this match report has received input from various match participants.
Match Stats:
Score: Team Sid & Excalibur 2 - 2 Team Billy
Attendance: 4 (Emma, Angela, Sadie & Stanley in the Fielding Family Stand)
Conditions: Firm pitch, but rain, mist, and a little wind.
To see the Penalty photos, click here.
To return to Allstars 2008, click here.