The Match Fixing Controversy
The official line:
Two teams selected, based on strict criteria - if you had a Tangerine Allstars kit from 2006 then you were in Team Tangerine. 20 players available prior to match day, only 9 with Tangerine kit. Mo Aswat selected for Team Tangerine, Mo's ex-Uni mate in his early 20's and Steve Henderson selected for Team Billy. On the day, Mo's mate can't make it and Steve H lost on the motorway. Mo 'transferred' to Team Billy - 9-a-side. Steve H turns up, Wolfie offers to rest, and 9-a-side maintained.
However, we can now reveal the secret memo sent by Mr Steve Henderson on Monday 6th July 2009, and without redaction.
It's time the full truth was known. Here's what really happened;
Midday - learning from last year's mistakes, I'm the first to arrive.
12.30 - a shadowy figure wearing dark glasses and a trenchcoat, but with somehow familiar sparse ginger locks arrives. Offers me 50 quid to drive round the ring road for 2 hours.
12.31 - Hey, better rate than I get for the day job. I accept.
14.30 - Come back at the appointed hour. Am informed that for the first time ever I'm wearing a Tangerine shirt. Odd.
14.31 - Forget which team I'm on and cushion a defensive header back to Billy. Unfortunately it squirms under him and it's 2-1 to the Tangerines.
14.50 - Order is restored as the Mo'n'Max combo in the mighty Milanistas rapidly get 2 goals back.
14.55 - Shaggy sends in a hopeful cross, and the blue'n'black shirt in me looks to divert it for a corner. I stumble and trip and as I fly through the air the ball connects firmly with my bald spot and flies past Billy. 3-3.
14.57 - Shaggy curls a magnificent effort into the top corner. From a position which some might say was offside and one might say wasn't... Either 4-3 or 3-3
14.59 - The impeccable Kane for once misses a header and I look to clear up behind him. I miscue and the ball loops over Billy, bounces once and agonisingly loops under the bar into the net. Cue final whistles and apologies to my Milanista mates.
15.30 - Request for everyone to chip in £3 each to cover 'pitch fees'...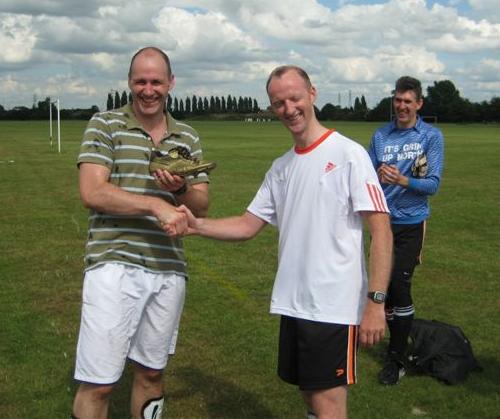 A pre-match or post-match picture.. you decide...

To return to Allstars 2009, click here.