Back Row: left to right:
Ian Cook; Kane Horton; Jack Hawkins, Mo Aswat; Grant Murgatroyd; Alan Freeman; Grant McKinlay; Neil Cook; Jeremy May; Max Halliwell; Simon Cummins.

Front Row: left to right:
Mark Halliwell; Simon Fielding; Craig McKinlay; Andrew McKinlay; Dean Shaw; John Gilligan; Richard Isherwood.
Inset: Steve Henderson.
Started with 9-a-side, ended with 10-a-side, played 3 periods in a Grove Farm heatwave, goals disallowed, penalties awarded and refused erroneously, accusations of match-fixing, video highlights, and blue 'firejuice' drank from a teapot. An Allstars reunion should never be missed. A fact (eventually) not missed by our dear compatriots - Neil Cook (first game for 13 years, since the very first formal reunion game in 1996) and The Wolfchild aka Simon Cummins (first appearance since 2003, although there have been intervening near misses sabotaged by automobiles and memories of a faulty nature).
Man of the Match award.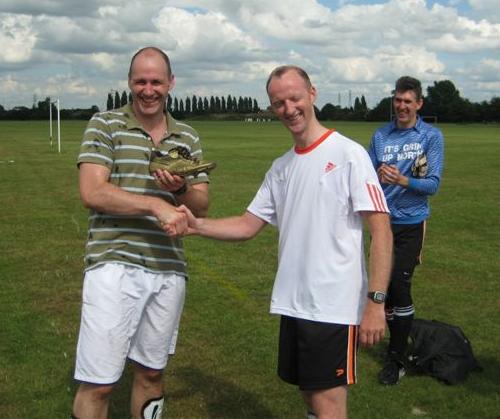 Steve "Hat-Trick" Henderson receives the Golden Magic Boot from the WebMaster, despite missing the first 'period' of the game.
To see the video, click here.
Post-match drinks began, as is traditional, in The Priory on Derby Road. A family occasion this year for many a proud Allstar.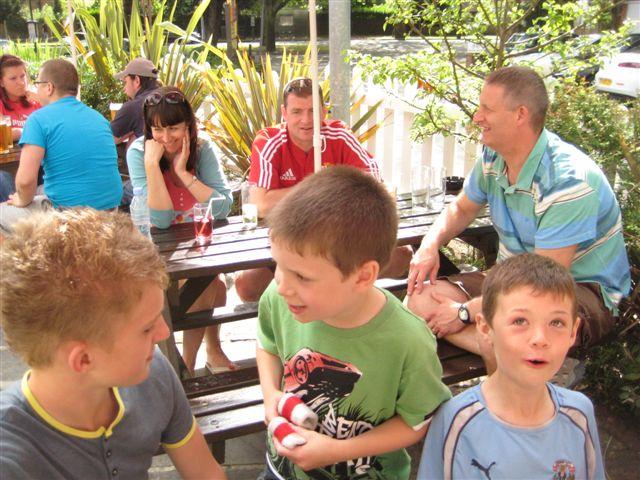 For the full match report, click here.
To see the penalty competition, click here.
To view the night out, click here.