Match Report
"What goes up, must come down / Isaac Newton, he's no clown / Gravity, gravity, gets me down." (Soviet Onions, circa 1990).
Allstars' match day, the usual mounting tension as the players arrive at Grove Farm looking fitter than ever, Neil 'Baby Cookie' ready to line up for the first time in 13 years, and then the inevitable last-minute player shortage. One player can't make it (Mo's young ex-University first XI mate) and another (Steve H) is stranded in traffic, running 30 minutes late. Down to 9-a-side before a ball kicked in anger. Down, but not disheartened, and with a hasty but minor re-arrangement of players, Champions League handshake, and team photo, the game was ready to start. Well, almost.
Champions League handshake.
Allstars 2009 coincided with a semi-heatwave across the UK, that even the Grove Farm micro-weather system couldn't displace. It also coincided with the return of a certain Mr Dave Bigland from self-imposed exile as the match referee. A day without controversy was now unlikely, and so it proved with the time-keeping and key moments in the game.
After 10 minutes of intense debate, a consensus for 3 periods of 20 minutes each emerged, allowing more regular breaks, a minimum of 1 hour of football, and the option to play on in a 4th 'quarter'' if so desired (apologies to the Arts and Humanities graduates amongst you for all the numbers - it is integral to the story, but if you're feeling challenged just skip this difficult paragraph and read on).
So far so good, but this didn't take account of the referee's stopwatch capabilities. After 35 minutes of a pulsating 1st 'half', and with the scores matched at 1-1, Biggers was finally persuaded to blow his whistle, admitting later in the Hand & Heart that he'd inadvertently set his watch for 20 hours.
Let us not gloss over the action in this first period of play though, which saw the Allstars' youngest ever goalscorer, Mark Halliwell, notch a fine effort, slotting a right foot shot beyond Sid into the bottom far corner, after neat link up play. 0-1. Indeed, this was nearly followed by a Halliwell combo goal moments later, as Mark narrowly missed a chance created from a cross by his proud father Max. One can only speculate on what might have been achieved by Team Billy if Halliwell Junior had been allowed to wear ex-England goalkeeper Paul Robinson's boots rather than his father. The prized boots were acquired through Mrs H's FA contacts, are only sanctioned to play in Allstars games, and continue a fine Allstar connection with England goalkeepers.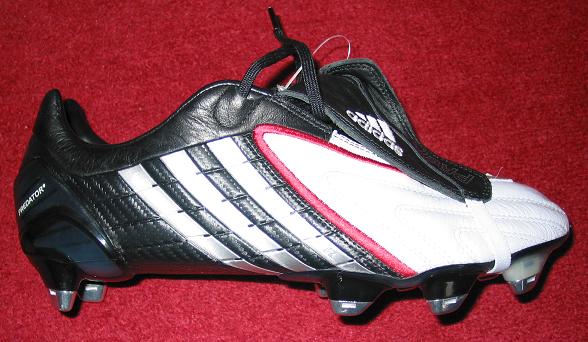 Paul Robinson's boot.
The Tangerines defence began to get more organised though, with full-backs Wolfie and young Andrew McKinlay battling well against their attackers and utilising space on the flanks to link up with their own forward line. There was one exquisite moment when Andrew skinned his Uncle Craig effortlessly down the left wing. Even more impressive when you consider that Andrew had already played a competitive game that morning (see here)! Such wing-play resulted in a corner mid-way through the period. Mince swung a wide corner out from the right, which was directed goalwards by a Jack header from the edge of the penalty area, pounced on by Cookie and any doubt of a goal removed by Shaggy who blasted the ball into the back of the net past Billy. 1-1.
Team Billy ('The Milanistas') were stung into action and pushed The Tangerines onto the back-foot again, but were foiled by Andrew man-marking Sheff at corners, and two off the line clearances. The first a header from Mince when Mo had the whole goal to aim at, and the second a quite stunningly brave and athletic clearance under pressure by Wolfie moments later, when a goal looked certain. Max also had a goal ruled out for offside during this period of dominance, later claiming his speed of movement had blurred the referee's vision. The next 15 minutes were then spent by various players from both sides 'debating' the passing of the seasons as the referee insisted on playing 'minutes' that visiting aliens from Uranus would find more recognisable.


"Half-Time" Score: Team Tangerine 1 -1 Team Billy
Half time, and what would ultimately prove to be the most significant change to the game took place. Steve H had arrived 10 minutes before the end of the first period and was champing at the bit to get on. Only Wolfie from both sides was prepared to sportingly offer his place to Steve to ensure the teams remained equal in number...
To continue the Match Report, click here.
To see the Penalty photos, click here.
To return to Allstars 2009, click here.