Probably inspired by the "leaving party", held that January in Nottingham, for the departure of Billy and Liz to Florida. The first official re-union was organised to tie-in with Euro'96, and would see, for the first time, the Allstars succumb to the corporate shilling.
Black "Guiness" t-shirts supplied by "Baby Sid" bore the apposite line from The Smiths' 'This Charming Man' - "I would go out tonight, but I haven't got a stitch to wear." Not strictly true Colin, as anyone who has lived with a Physics undergraduate knows, there's always something classy to dress up in.
Goal action at The Farm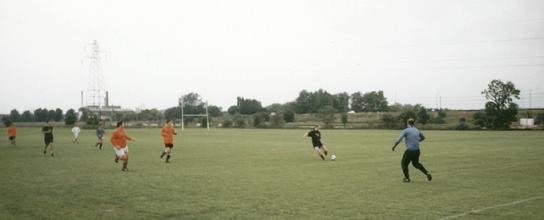 To view more action photos from 1996, click here.
To view the evening's photos, click here.
Jez and Gordon know the chase is over, as Mince, resplendent in pink cycling shorts (a 22nd birthday present from the boys at 75), prepares to blast a left-footer past Sid.
1-0 up, the boys in black never looked back.