Sid 'Referee' McKinlay's Match Report
A beautiful day over sunny Nottingham, and the might of the Allstar army descended on Grove Farm for yet another exhibition of football. As is customary these days it seems at Grove Farm, apart from the Allstars, there was a hen party "It's A Knock Out" next to the river and a full game of cricket of all things. Cricket on the hallowed turf? Wouldn't have happened in our day. Once Billy had been found, and the hen party informed he was in fact here to play football rather than the It's a Knock Out helper he'd made out to be, the teams proceeded to the changing rooms.
Team Excalibur looked resplendent in their tangerine Allstar kits, except for Marc who'd decided the more aggressive It's Shite Down South shirt was more in keeping with his match tactics for the day. One changing room was unusually quiet, with the Excalibur boys a little lost without their charismatic and flamboyant leader. Team Sid proceeded to their customary changing room and pulled on the mighty Yellow shirts, which were indeed a generous fit. The fact the ref chose to change with Team Sid would bear no relation on the shape of things to come, nor the rallying cry he gave to the troops prior to heading for the pitch.
The pitch, as always, was newly marked out with nets and corner flags intact, and did in fact make the Allstar lads look like they belonged on the green grass of Nottingham. The lads knocked up in their respective goals using all 3 balls on offer (a far cry from the old days where we were often lucky to have one). A quick count up of players recorded Team Sid to have 11 and Team Excalibur only 9, so a quick transfer discussion ensued and Andrew was subsequently sent on loan for the season to the Excalibur boys and the sides were level. Everyone was then summoned for the Team photo. Alternating tangerine and yellow shirts for the team photo proved its usual problematic self, when really we should have this sorted out by now.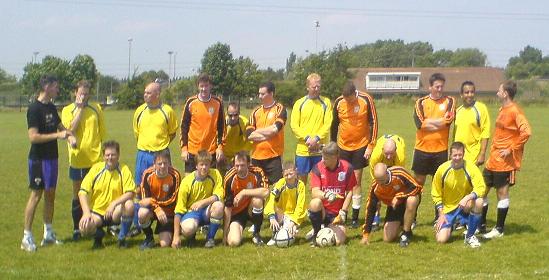 Allstars attempt to assemble under Sid's leadership for the pre-match Team Photo.
Champions league handshakes followed and then the pre match "which ball to use" debate was settled when Dave Holborn had to back down due to his selection not being a regulation size. Andrew's size 4 was not deemed suitable by the ref despite Dave's claims he could get "good swerve" on the ball and the extra padding was more gentle on his feet. The ref called both captains to the middle but, as Team Sid's stand in captain had just been transferred, only Shaggy turned up for the toss and hence won by default. Team Excalibur chose to kick off and the match was away.
Allstar tradition No 3 was in fact forgotten as the usual match start of "Mince shoots direct from the kick off at Sid" couldn't be re-enacted this year. In what was a surprisingly high tempo start to the match, both sides had good moments of possession and Team Excalibur managed a nice looking 8-pass move using the majority of players. The heat couldn't be ignored for long as Graham then proceeded to don a sun hat, sunglasses and run with a water bottle at all times. This choice of attire did attract some mumblings from players on both sides. With the match quite tightly locked with few early chances for either side the game became wide open when Team Sid old boy and midfield maestro, John Gilligan, struck a fine finish past the somewhat less-agile-than-he-used-to-be fish-like keeper. It was then a new Allstar tradition was born, as drinks were taken before the restart and it was agreed to play the game in quarters, since the heat, age, and general condition of the players seemed the only safe way to go.
Retribution was swift after the kick-off, and within a minute Team Excalibur were all
Square. A terrible piece of show-boating by Graham as last man, in trying to out step-over Marc, led to the inevitable loss of possession and a cool finish from the Scotsman in front of goal. 1-1 with only 13 minutes on the watch.
With their tails up, and some dissent in the ranks of the Team Sid Boys, the Tangerines pushed on and forced a couple of saves from the Team Sid Keeper, and looked good for a second goal. Si Heath however stepped up a gear to strengthen the midfield for the Yellows, and then on 22 minutes Team Sid's new super-striker, Mo, struck on the edge of the box and lobbed Billy from fully 20 yards, in what could only be compared to the best goal keeping traditions of Sidney in nets. 2 - 1, and that's how it remained until half-time, taken this year after 30 minutes.
After half-time oranges provided by Claire were gratefully consumed and each side had a chance to refresh themselves. The half-time subs arrived in the shape of Neil and Rob (adding to the ranks of Teams Excalibur and Sid, respectively), and so a full 22 turned out for the second half.
Team Sid were not to learn their lessons from the first half and within a minute of another restart Team Excalibur were level. A fine passing move finished with aplomb by Jack, who maintained his fine scoring record in an Allstar shirt. Team Excalibur, lifted by their quick fire start to the second half, passed the ball around nicely until Andrew was harshly challenged in possession on the edge of the Team Sid box. The ref placed the 5-man wall 10 yards back and up came Marc for glory. However, it was not his best free kick and it sailed harmlessly over.
Both sides pushed hard in the early stages of the half and passing and movement was really quite impressive for about 5 minutes, a few openings were created which all led to Deslick calling for offside, bizarrely at both ends of the pitch. A tough call without a linesman. Eleven minutes in and a second goal for Mo who fired in to the top corner of Billy's net, 3-2. Some fine goal keeping from both sides ensued, as players tired and the game opened up all over the park. First, a fine save from Billy to deny Mo a
hat-trick, and then Craig appeared in the other box, after a ground shaking stampede up the park, only to be denied by a fine save. Team Excalibur were now starting to feel the heat and were beginning to badly miss their regular sweeper. Team Sid launched a flurry of attacks, forcing another fine save from Billy on 46 minutes, which just managed to avoid falling to Johnny G on the 6 yard line, and then a defence splitting pass from Graham creating a good opening for Mo.
On 53 minutes, a pivotal moment, as Neil rather aggressively lashed out at Si Heath conceding a free kick at the left hand edge of the box. A Beckhamesque Graham stepped up to curl a screamer into the top corner. A fine Allstar goal for the record books. 4-2. With Team Excalibur resorting to the usual Allstar last 5 minutes 1-4-1-5 formation, hot heads and tempers began to fray, and a hotly disputed penalty shout from Team Sid followed by an even more hotly disputed Team Excalibur free kick were waved away. The ref would need quite some convincing now to award a free kick.
Despite the gaping holes in midfield, and the tired legs, the Tangerines created one last moment of glory. Jack and Marc combined to put Shaggy free in space for what once would have a been a routine dynamic finish from the ginger warrior. Unfortunately, this time, the shot flew harmlessly over. Time still allowed for a
heated discussion between fellow Tangerines Billy and Jack, and for Chris to clip the top of Billy's cross bar, before time was called on yet another festival of football. Penalties waited both sides as always.
Note: for journalistic reasons, this match report above will not appear in any edition of any magazine.
Match Stats:
Score: Team Excalibur 2- 4 Team Sid
Attendance: 5 (Claire, Lorna, Alison, Samuel and Dominic)
Conditions: Pitch rock hard, 29C, sunny with a light breeze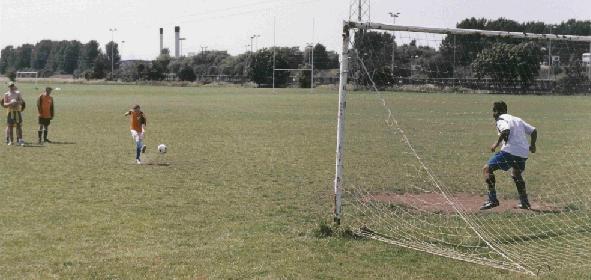 Tangerine Andrew kicks-off the traditional Penalty Competition against Mo.
To see the more Penalty photos, click here.
To return to Allstars 2006, click here.