Match Report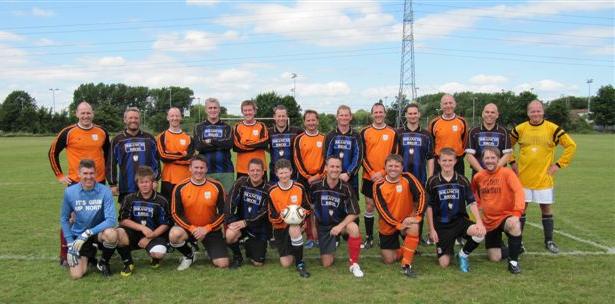 "I think after what happened at Blackpool last season this is the year of the tangerine, so I'm going for Team Excalibur." (Sir Ian Holloway, 2nd July 2010).
Despite the relatively benign weather, a low and yet distinguished attendance this year, with Duncan's partner, Merche, from Spain joining Claire McKinlay, Sue and Lucia Halliwell on the touchlines. Thankfully the appalling World Cup craze that threatened to ruin all TV broadcasts of the games, the South African Vuvuzela, was notable by its absence.
The impact of the usual last minute absentees - Wolfie and Mo - was cunningly minimised by a squad selection of 24, and thus two formidable 11-a-side teams lined up for the pre-match squad photo.
In what was fast becoming known as the Year of the Tangerines, the odds were stacked against the team in John's Inter Milan strip. Could the Tangerine XI follow in the footsteps of Dundee United (Scottish Cup winners in May), Holland (the previous night's World Cup QF winners over Brazil) and the Mighty Blackpool FC (victorious at Wembley in a pulsating Championship play-off final)? How could they fail, especially with Duncan donning the classic Tangerine "It's Shite Down South" 1991-92 season top?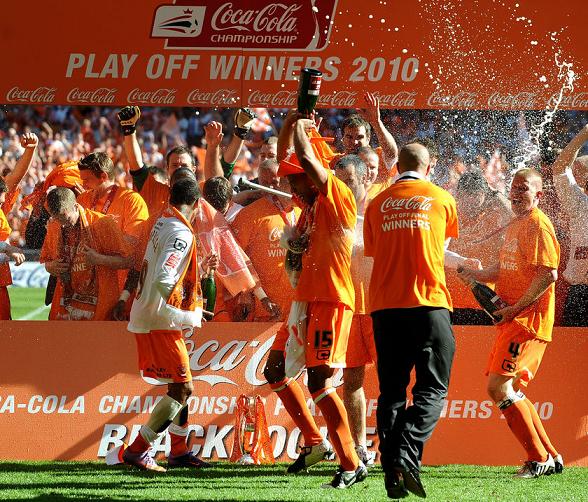 The Mighty Blackpool FC - on their way to lighting up the Premier League.
Customary Champions League handshake and match timings negotiated, the game got underway with Mince and Max refereeing their respective halves of the pitch. There was no repeat of last year's 'controversial' (de)selection of Steve Henderson, where accusations of brown envelopes were made, as he started and ended this game in Tangerine. A fact that spurred Steve's attacking and competitive instincts when pitted against all his Sherwood Hall mates in Blue&Black. However, this did result in the right hand side of midfield often being neglected in favour of an additional striker, despite regular prompts (from Shaggy and Marc), and occasional menacing glowers (from Cookie) to direct Steve back, and consequently further exposed rookie right-back Dunc to a flurry of Milanista attacks.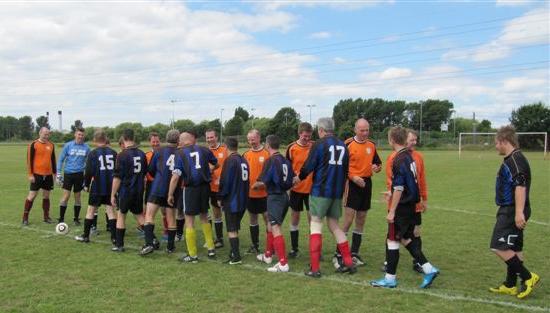 Champions / Premier League handshake
To continue the Match Report, click here.
To see the post match photos, click here.
To return to Allstars 2010, click here.