Match Report continued...
Dunc thoroughly enjoyed his debut game, offering Merche a rare glimpse of latent athleticism, and which inspired further games back in Portugal in an effort to improve his first touch and throw-in technique for next year. Encouraged throughout by cries of "just get rid of it" and other coaching hints, Dunc rose to the challenge, to such an extent that a stray elbow was employed at one stage to welcome his youthful opponent Mark Halliwell to a "man's" game. In Dunc's defence, both referees interpreted this move as an unfortunately timed act of throw-in practice, and Mark took it in his stride, preparing himself for the later follow-up assault from Cookie. Provoking cries of "Oi! That's my boy, leave him alone!" from the touchline, and a general collective intake of breath, Mark brushed it aside and continued to be a thorn in the Tangerine flanks.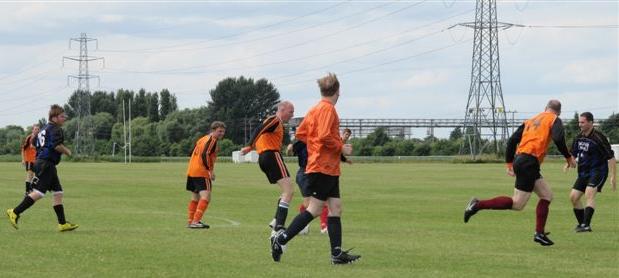 It's worth reflecting at this point on a similar x-rated challenge by Marc on Danny, for which Max awarded a metaphorical yellow card. The fact that Holland's notorious Van Bommel and Mr Mullen have never been seen in the same room did not deter our Spanish Scouser. Hands were reportedly shaken later in the pub, but a timely reminder, nevertheless, that "it's only a game". Come next year and all Allstars should expect that the Champions League handshake signals a commitment to a little less blood thirsty approach to combat, and a bit more allowance for the slowing of our tackling abilities.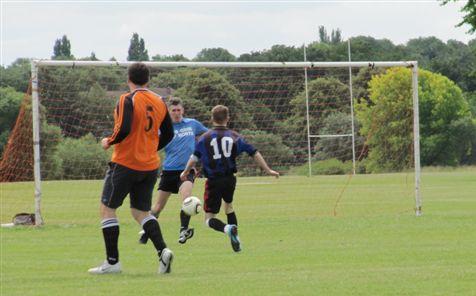 The first hour of this game was a very equal affair with both sides having to work hard to create goalscoring opportunities, exemplified by Sheff's quite impressive stewardship of his defence, and two wonder saves from Sid at the other end. Both sides took their cue from the managerial genius Ian Holloway, and demonstrated good passing and attacking football, despite their unfamiliarity with the new Jubilani (World Cup 2010) ball, and a general drift of possession across the pitch towards the way the wind was blowing.

The ball may have changed, but there was a certain feeling of déjà vu about the first goalscorer. A hopeful cross from Dr Jack from the left, floated over a hapless Gary into the far top corner. This galvanised the Milinistas into a response. Pete and Danny both showed some silky skills on the ball, only to be let down by their final pass, often resulting in goal kicks or throw-ins to the tangerines.
Pat Hudson, back after an 11 years break from Allstars duties, was especially keen to stamp his authority on the game, sprinting to keep a hopeless ball in, and only failing at the last second when his legs buckled underneath him through oxygen starvation. Pat wasn't the only fitness challenged Allstar though, with Si Heath showing the ill effect of the rigours of fatherhood on a man's batteries. This didn't stop Si 'ghosting' in after a Mincing slip, and crashing in an equaliser from 3 yards out. The tangerines pressed to re-establish their lead, but a combination of multiple pin point crosses from John being squandered by the tangerine attack, and Sheff's marshalling of his defence - including some inspired direction to Gary to make saves in the style of Black Lace dance moves - kept the scores level.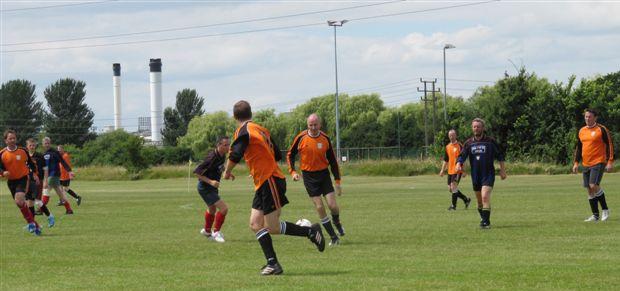 The scored stayed that way until the final quarter of the game, but a significant tactical switch upon Marc's suggestion saw Mince drag his arthritic limbs up front alongside his fellow ginger warrior, and the goals finally came. Dummying a long ball up to him, Mince finally broke free of Sheff, who was proving difficult to get past when 4 on 1, and was able to deliver a left-foot cross over to Steve H, who managed to poke it home into the far corner, after an initial bungle.

It was at this point that Sid made one of his crucial wonder saves, a tip away from a Danny's top corner-bound rocket to give the tangerines psychological advantage. Mince made it 3-1 soon after, a 25 yard "screamer" past an injured and flailing Gary, after an earlier "range finder" shot got his eye in, and effectively ended Milinista resolve.
Jack rounded up the scoring with a lovely piece of football. Starting the move in midfield, Jack passed up to Steve in the "hole" who hit a first time "chip" over the Tangerine nemesis Sheff in return. Jack ran on to it and slotted past a hamstring-torn Gary into the bottom right hand corner.
Final score: The Tangerines 4-1 Max's Milinistas 1.
Note: this match report has received input from various match participants - many thanks from the WebMaster for your contributions and for the Halliwell and Jones photography.
To see more match photos, click here.
To see post-match events, click here.
To return to Allstars 2010, click here.
To return to the start of the match report, click here