Match Report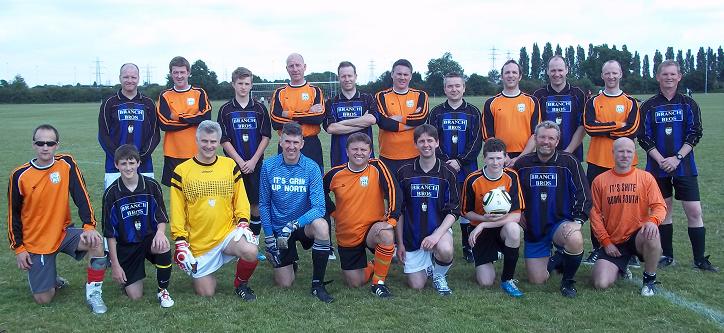 "It's a close call this year, but I'm fearful of refereeing decisions against The Tangerines. One only has to recall the blatant penalty-denying cheating of the Man United ref at Bloomfield when we were 2-0 up and cruising" (Sir Ian Holloway, 1st July 2011).
The Northern Allstars annual event is nothing if not traditional. Once again, the WebMaster was securing the services of players until the day before, following a suspected hernia for Craig McKinlay and Wolfie's preparations for camping outside St Paul's cathedral. Gary nobly risked a recent calf tear, and debuts were awarded to Andy Kit (mate of Rich Ish) and young Phil Halsey (mate of Mark Halliwell), enabling a 10-a-side match at Grove Farm.
Thanks to John for the Inter kits again (none reported lost so far), Max and Shaggy for the crowd, Sid and all the others who helped put the nets up and down, and especially to P20 sunblock for easing the curse of my baldness in what proved to be the final day of summer.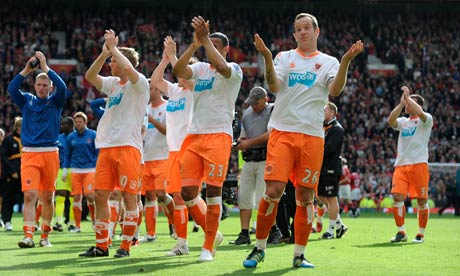 The Mighty Blackpool FC - departing the Premier League they graced so well.
Following recent Allstars tradition, Team Tangerine (managed by Sid and Mince) once again lined up against the Milanistas (mismanaged by Max and Billy). The tangerine kits were largely of the 2006 vintage, but Dave unveiled the classic old shirt that scandalised the 1991/92 Sunday league. Outfield captains, Max and Mince, assumed referee roles, and reiterated the instruction for fair and age-appropriate tackling.
Sadly, in an age of tuition fees and other right-wing capitalist outrages, the University now feels it necessary to charge the alumni filled ranks of the Allstars £50 for the privilege of the pitch. However, as a consequence, Max collected player contributions on the basis that any profit over £50 went to his chosen heart charity fundraising effort via the London-to-Brighton bike ride.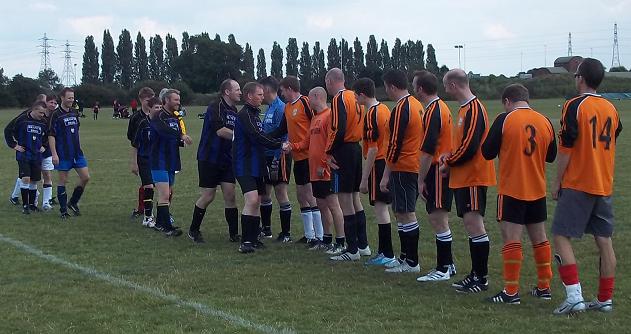 Champions League handshake
Once the curious pre-match dispute about the nature of the Champions league handshake and suspected inequalities of team selection was over, the team lined up for the squad photo taken by Mrs Halliwell, made half-assed attempts at warming up, and then kicked off the first of 4 twenty-minute quarters.
To continue the Match Report, click here.
To see the post match photos, click here.
To return to Allstars 2011, click here.