New team themes for this year's Northern Allstars reunion match. All those who as students had resided in Lenton Hall would form one select XI, against a Rest of the World team which was largely a mix of former Sherwood Hall / Derby Grove residents and (most crucially) young and fit Allstars progeny. Despite the romance associated with the resurrection of a Lenton Hall football team, the Penalty Competition would ultimately prove to be the on pitch highlight. A fair assessment of the game itself would not include terms such as 'balanced' or 'competitive'.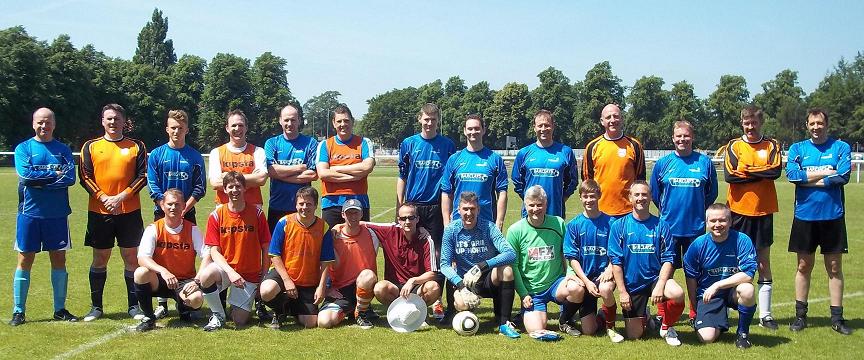 The players:
Left to right:
Back Row: Neil Cook; Jeremy May; Mark Halliwell; Jack Hawkins; Steve Henderson; Dave Eslick; Andrew McKinlay; Craig McKinlay; Gary Boydell; Ian Cook; Andy Nockton; Grant Murgatroyd; Andy Mansfield.
Front Row: Max Halliwell; Rich Isherwood; Dean Shaw; Simon Fielding; Graham Jackson; Grant McKinlay; Alan Freeman; Harry Freeman; Danny Jones; Andy Kit.

The WebMaster will never again listen to anyone who suggests they'll just bring along their 'little lad' to 'play', especially not as a 12th man. My post match body felt like it had been subjected to interrogation from Henry XIII's henchmen for the weekend, under suspicion of having slept with Anne Boleyn. I dread to think what I'd be like if I'd run or got anywhere near the ball.
Nottingham Races
Ness holds court with the McKinlays, whilst Shaggy turns to ask, "Which one is Clare?"
Aside from the football (and a humiliation for 11 of us), it was another great day, topped off in traditional style with a visit to Nottingham Races (horses), the Castle bar (where the tallest yet under age Allstar, Andrew McKinlay, was repeatedly offered ale from the bar staff), a splendid curry in Cumin, and a relaxing aperitif outside in the splendid environs of the Roundhouse bar.
For the full match report, click here.
To see the post match activities, click here.