Match Report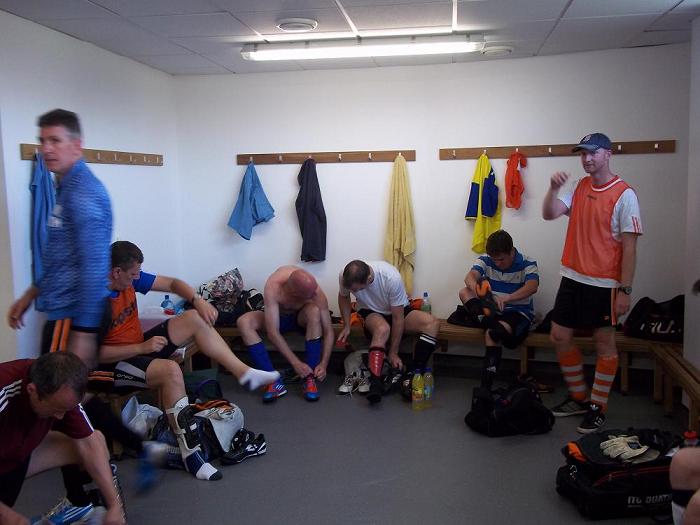 Lenton Hall XI prepare for the most one-side football match since 13th April 1970, at Deepdale.
Sadly, no John Gilligan this year through injury (so no Inter Milan kits either), and the usual last minute drop out from the Scottish laird (with the silent 'i'), meant we had two teams of exactly 11. Perfect. Enter stage left, Harry Freeman, a mere 12 years of age. No harm in him playing as a 12th man, near his old dad, surely?
The teams lined up for the traditional team photo and Champions League handshake on perhaps the best pitch we've ever played on in our 23 year history, basking in a heat only surpassed once before in 2006, and in front of a crowd the size of which Preston NE would be proud of (rising to 18 at one mid-match count by Sid).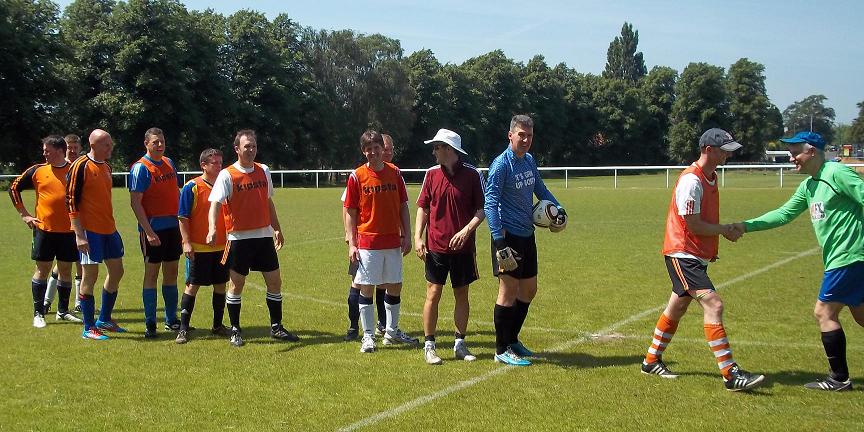 The traditional Champions League handshake begins.
Lining up in tangerine (supplemented with quite possibly the foulest smelling unwashed bibs ever from Gary), Lenton Hall XI faced a 12 'man' ROW team boasting two teenagers, and for the most part a 12 year old wizard, resplendent in Andy Nockton's kits. The game was played in four quarters over 70 minutes, and some goals were scored. Next came the much anticipated and (quite literally) hotly contested Penalty Competition, the real reason for the reunion.
Lenton Hall morally romped home 6-6 with the penalties, on the basis that ROW had an extra penalty with the scores at 6-5, and despite Shaggy missing for the first time ever. Witnesses distinctly recall a rousing chorus of cheers when the 'winning' Lenton penalty hit the back of Billy's net. Sid was narrowly out foxed as keeper by son Andrew but saved brother Craig's penalty with ease.
Out of charity, Lenton Hall magnanimously allowed the MoM to pass to Mark Halliwell on the ROW team, for scoring his penalty with aplomb.
If you must read on...
To continue the Match Report, click here.
To see the post match photos, click here.
To return to Allstars 2013, click here.