Another great Allstars weekend, with the only two downsides. The first being, as always, it passes so quickly you don't get the chance to catch up properly with everyone. Secondly, the pain that follows. Usually for the WebMaster this is about a week of leg and groin aches, but this year there remain two torn tendons in the left arm (as of June 2015, 11 months later).
By some miracle, 20 players arrived on the day for our annual match. The squads were looking threadbare on the Thursday prior. Injuries put paid to seasoned regulars Shaggy and Jack, Andy Nockton's sister inconveniently held her 40th birthday party that weekend, alignment with a Scrumpy Jacks / Sherwood Hall reunion failed to materialise, and even Nina's partner, Pete, managed to break his toe to avoid Allstar duties. However, a fair sprinkling of Allstars progeny alongside their ageing fathers, and a debut from Neil's mate Andy Ritchie (not the former footballer, best known for prolific goal scoring spells at Oldham Athletic), sorted the teams out. Andy and all the dad's lads played well, and are welcome additions to the Allstars family.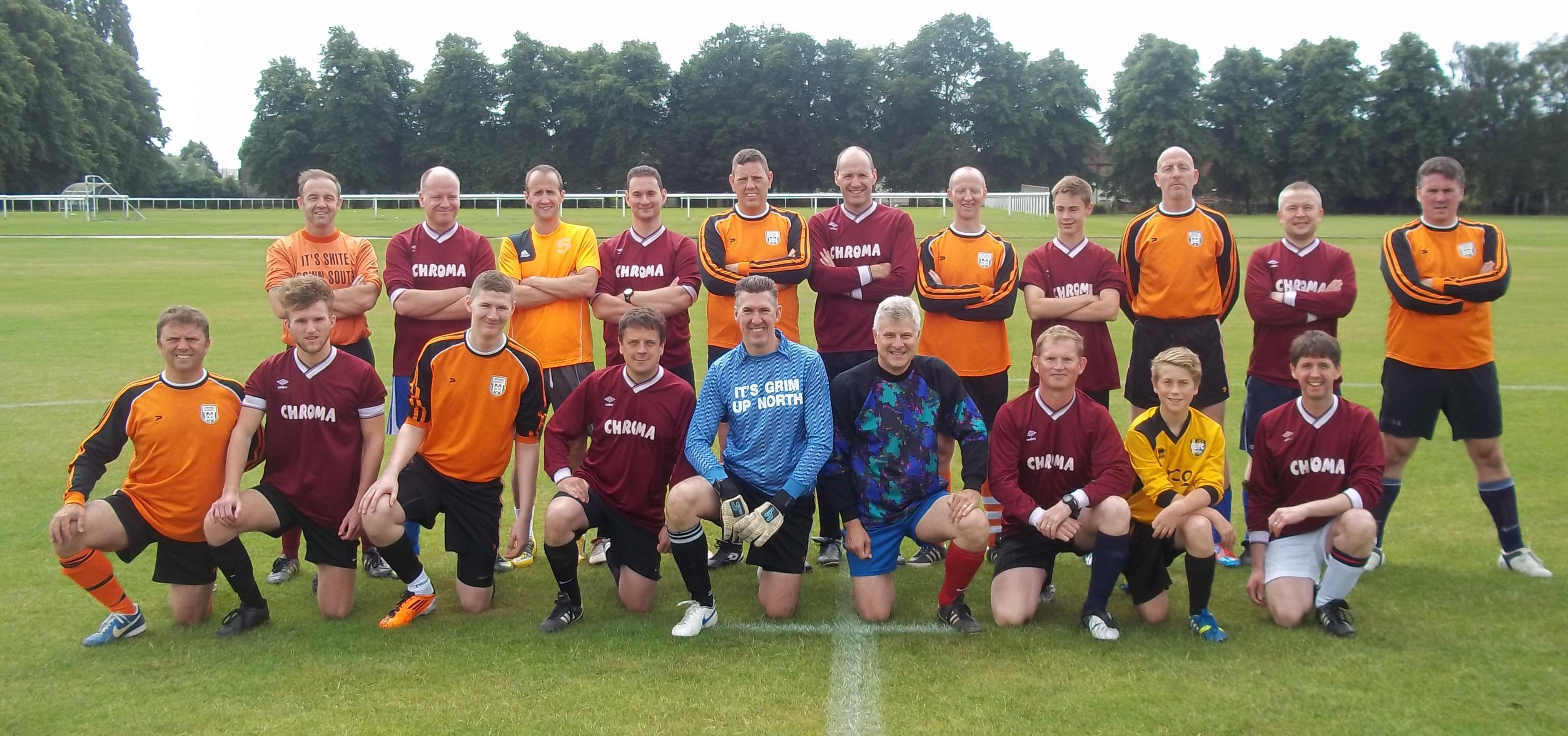 The players:
Left to right:
Back Row: Andy Ritchie; Neil Cook; Graham Jackson; Craig McKinlay; Dave Eslick; Steve Henderson; Simon Fielding; Harry Freeman; Ian Cook; Andy Kit; Jeremy May.
Front Row: John Gilligan; Mark Halliwell; Andrew McKinlay; Dean Shaw; Grant McKinlay; Alan Freeman; Max Halliwell; Sam Gilligan; Rich Isherwood; .

A few eager Allstars, Billy and Graham included, arrived just after dawn, following Sheff's dire warnings of Silverstone traffic carnage on the M1 that failed to materialise.
Another fine summer's day at the wonderful Highfields complex saw a much fairer and more competitive match than the 2013 'slaughter by the innocents' debacle. Indeed it was the most equal game for a number of years, and watched by a sizeable crowd approaching a dozen, which is more than will be in Bloomfield Road home ends next season.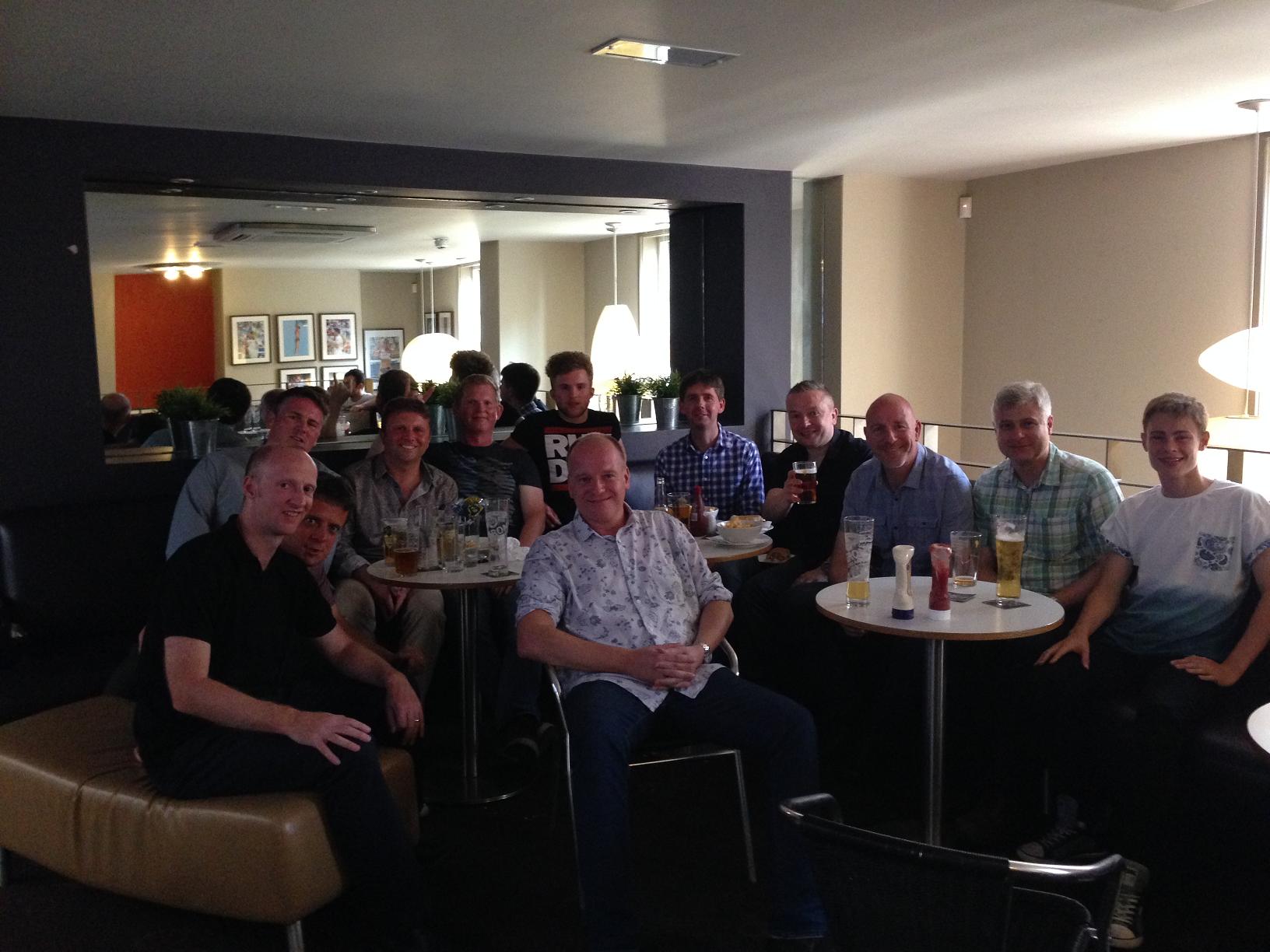 The Hawksley, Derby Road
Post-match entertainment was once again splendidly organised by Jack, who met up with many of the players at The Hawksley (top of Derby Rd) to watch that evening's uninspiring World Cup quarter-final games, grabbing snacks with the drinks, before a late curry at Cumin on Maid Marion Way. Sunny at Cumin kindly agreed with Jack to keep the restaurant open for the Allstars to arrive after the second World Cup game. Sunny had met many Allstars previously in his time running Amigos take-way near campus during our student days. For the record, the early game saw Argentina defeat Belgium 1-0, and the late game was a no-score draw between Holland and Costa Rica. The mighty Oranges winning on penalties after most Allstars had already departed for their taste of India.
For the full match report, click here.
To see the post match activities, click here.