Post Match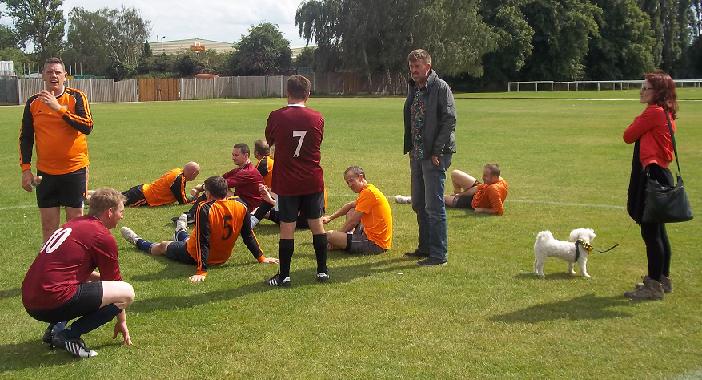 Shaggy and Scooby gave the teams a pre-penalty pep talk.
Referee Mikey sensed the nervousness in the Allstars ranks, at one point pulling over Rich before his penalty, as he made his walk of shame from the centre circle, and quietly advising him "whatever you do, don't change your mind". Rich proceeded to calmly score.
Unfortunately, referee Mikey didn't remember the penalty tally but opposition members were willing to accept a Team Excalibur victory in the traditional post-match competition, with Deslick suggesting the winning margin was 7 goals to 4. Cookie showed consistency, adding to his tally of misses for the day.
Lucia Halliwell showed the spectators how it should be done, scoring a blinding cameo penalty past a hapless Billy.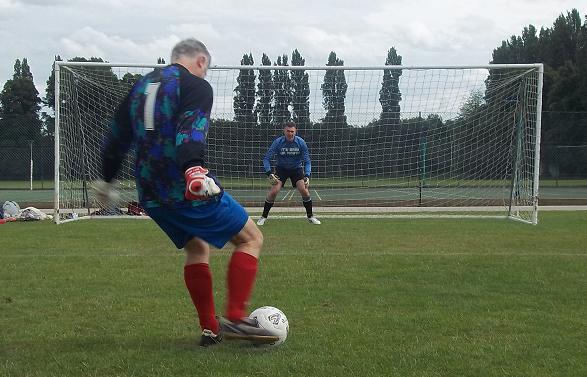 Billy takes on Sid.
Thanks to Max most of the match 'fees' were collected in either the changing rooms or the Hawksley afterwards, with the small 'profit' above the University £60 Highfields hire fee going to his charity collection.
Golden Boot awarded to John Gilligan for another tireless and influential box-to-box midfield display, despite keeping a caring paternal eye on his young lad. To be fair, he needed to do this less and less as the game progressed, with Sam growing in confidence throughout and playing an assured and impressive game. The young man earned much respect and praise from the Northern Allstars.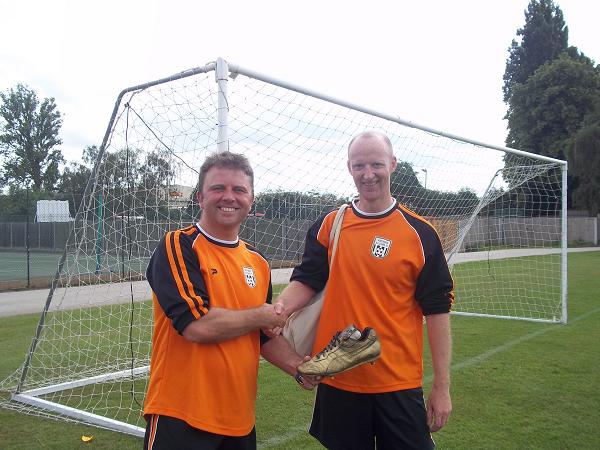 John G accepts the Golden Boot.
There was the usual email exchanges on the Monday after the game, to get shirts back to the right owners. Max needing to return his Grape top to John, and Sid suggesting Cookie keep his old Allstars top until the next game in 2015, given it wasn't a key feature of his 'man about town' wardrobe these days. Cookie left with strict instructions to prevent Neil's dog eating it.
Max suggested we try and organise staying in the same hotel next year for more camaraderie. This is probably the point where we need to remind Andy K, and any others thinking of following his lead, to only book the actual weekend of the Allstars not the one prior. Enthusiasm though has always to be admired. As have the continued promises of a Jim Higginbotham return to Allstar duty.
Camping has also been mentioned as a shared accommodation option, although Graham was only interested in the outdoors approach if it's a 5-star treehouse and has shared use of a hot tub with an Allstars player of his choice.
To return to Allstars 2014, click here.
To return to the start of the match report, click here