A sombre start to this year's annual Allstars reunion match, as the assembled gathered before the match to honour the memory of Simon "Wolfie" Cummins, who had very sadly died the previous September. Sid gave a short and moving tribute to our old University pal, emphasising that he didn't want to be doing such speeches again for quite a while, before we all huddled together to the plaintive sounds of poodle-rockers Aerosmith's finest and most fitting song, "Dude (Looks Like A Lady)". For those that were there in around 1990, when Wolfie crept into the Happy Return in full "lady attire" fancy dress, and chose that particular track on the jukebox, it is a scene never to be forgotten. RIP gentle dude Wolfie.
Dude Looks Like A Lady - RIP Simon "Wolfie" Cummins
The Allstars then returned to their traditional pre-match routines of failing to warm up adequately, squad photos, and the Champions League handshake, before battle commenced. Unfortunately, Allstar stalwart Jez was unable to make it on the day, an injured Jack kindly undertook referee duties, with Shaggy as his sole yet beautiful ginger Assistant. However, a welcome return to the fold after 5 years for Marc 'Mauler' Mullen. In honour of his return an Air Ambulance did a spot check of Highfields, landing just before kick-off on standby.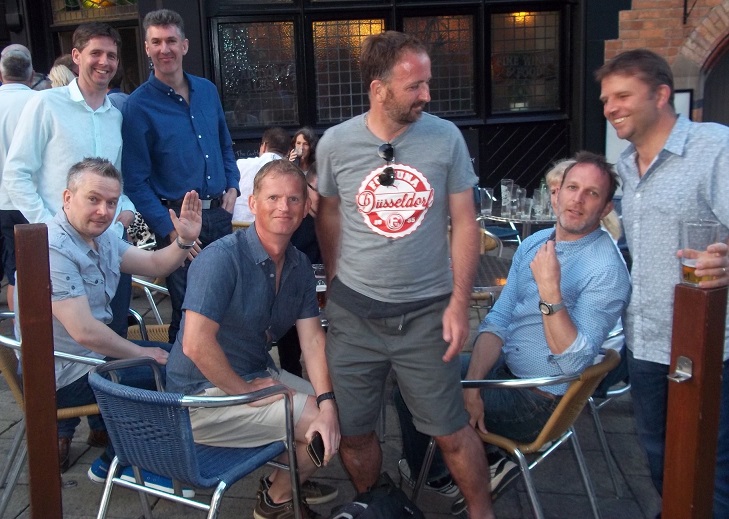 Castle Bar
Post match entertainment involved a few outdoor drinks at the Castle Bar, before the most amazing curry in Allstars history at Mem Saab on Maid Marion Way.
For the full match report, click here.
To see the post match activities, click here.