Match Report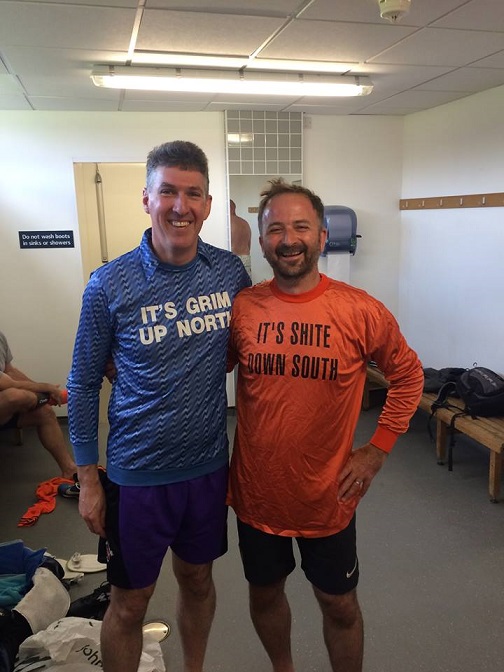 The Original Allstars pose in the Original Shirts in the Highfields changing room.
The first Saturday in July brought another scorching sunny day at the splendid University Highfields Sports Complex. Team Sid (Tangerines) with debutants 7 year old Stanley Fielding and Lorna McKinlay, and Team Billy (AC Milan, kit supplied by John G) with debutant Lucia Halliwell, lined up for a 2pm KO. Strict instructions for Allstars spectators on the pitch hiring form this year, prohibiting dogs (necessitating a hidden Scooby) and the "use of food, glass bottles, cans or chewing gum in the playing area". Thankfully, incidents of such hooligan behaviour, in common with football support in general, are rare now at Allstars games. The Allstars Ultras preferring to go toe-to-toe with their rival 'Hung Like Donkeys' mob at the nearby local Sushi bars these days.
The players:
Left to right:
Back Row: Lucia Halliwell; Mark Halliwell; Jack Hawkins; Ian Cook; Andrew McKinlay; Dave Eslick; Harry Freeman; Lorna McKinlay; Neil Cook; Andy Ritchie.
Front Row: Marc Mullen; Dean Shaw; John Gilligan; Max Halliwell; Alan Freeman; Grant McKinlay; Stanley Fielding; Simon Fielding; Rich Isherwood; Andy Kit.
And on to the traditional Champions League handshake...
.
To continue the Match Report, click here.
To see the post match photos, click here.
To return to Allstars 2015, click here.