Match Report
A desperate lonely cry of "the fields look playable" didn't fool most Allstars, as they gazed across to Grove Farm from Nottingham's Powerleague pitches.
There were the standard per-match deliberations, extended this year with the 17-player squad conundrum. Someone (modesty prevents the WebMaster imagining it was him) proposed a cunningly simple and effective solution. Round robin competition with 3 teams of five plus 2 constant goalkeepers, 10 minutes per game, and change ends/goalkeepers at each half time. So, Billy and Sid naturally in goals. Easy. Now, how to pick those 3 sides of 5 outfield players?
Here's where Sid excelled, demonstrating his latent managerial qualities. Avoiding the cruel dictates of playground football ("you can have the last two"), Sid masterfully lined up the players and numbered them accordingly. In retrospect, Sid missed a trick and we should have had a Team Andy, given there were 5 of them. Anyway, Allstars 2012 was a go-go…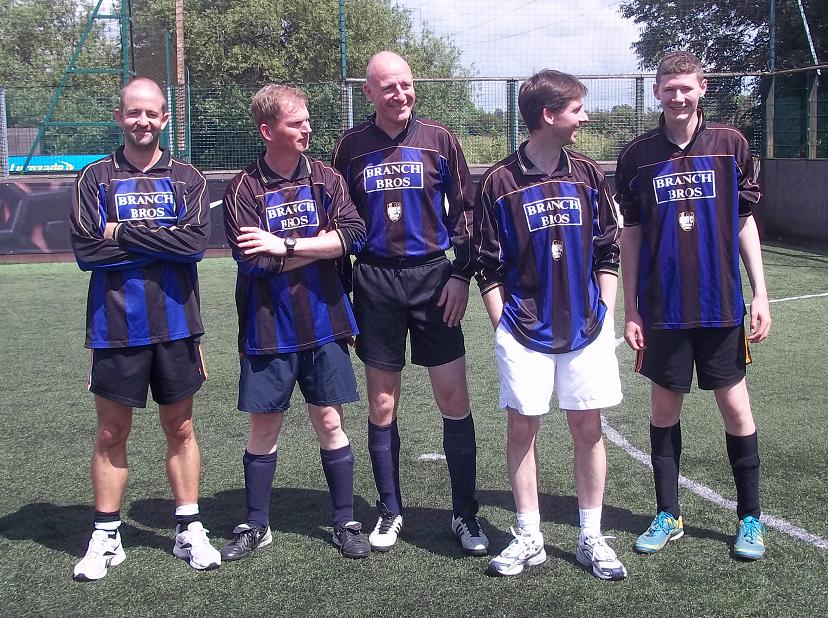 Team 'A' - Goal Shy Fops - Left to Right: Duncan Perrin; Max Halliwell; Ian Cook; Rich Isherwood; Andrew McKinlay.
The first game saw Team 'A' narrowly defeated 0-1 by Team 'B'. The solitary goal may have been scored by John, who distinctly remembers scoring against Team 'A' once, by accelerating past Rich and toe poking it between Sid's legs on the edge of the penalty area. Sid's "neutral view" was that John beat him with a "sublime curling effort into the side netting from an impossible position". Ex-H.O.G and Dynamo Grumbledook defender, Andy M, revelled in his first Allstar appearance.
The pressure and previous stamina sapping exploits took their toll slightly on Team 'B' against Team 'C', in the next game, the latter winning by the odd goal in 5. Craig with a brace, and Dave H netted for 'C'.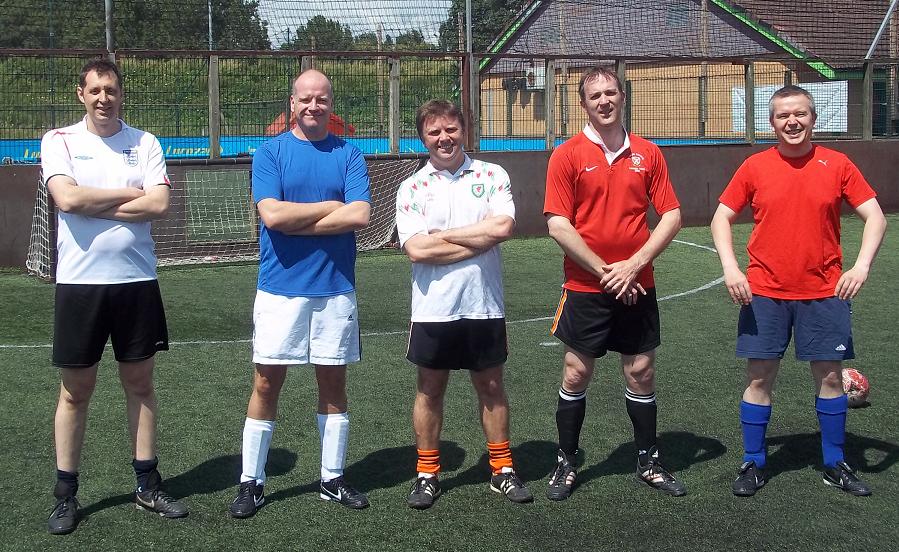 Team 'B' - Mini-League Champs- Left to Right (in ascending order of campness): Andy Mansfield; Neil Cook; John Gilligan; Jack Hawkins' Andy Kit .
With Craig on fire (i.e. shooting on site every time he had the ball), Team 'C' became the first team to win two consecutive games, beating the apparently goal-shy 'A' with a McKinlay Jnr 'rocket' in Game 3. Dave H claimed assists for many of the Team 'C' goals in the competition, presumably meaning he was the last player to touch the ball on Team 'C' before Craig took it upon himself to shoot.
So, Team 'C' lead in the mini-league table at the halfway point, and duly watched the repeat of Game 1. This time Cookie scored what provided to be A's only goal of the whole competition, but it wasn't enough, as Team B (John may well have scored in this too, his other goal firing in from the far right into the bottom left corner) netted twice in reply. 'B' and 'C' were now to play, level on 6 points, but 'C' having a game in hand. The WebMaster sadly reports that not only did his hip injury flare up early on but he could only watch in horror, whilst subsequently goal-hanging, the comprehensive 3-0 'B' victory. The competition was wide open again.
Team 'C' & Goalkeepers- Champions - Left to Right : Craig McKinlay; Dave Holburn; Sid McKinlay; Alan Freeman; Simon Fielding; Andrew Perrin; Andy Nockton.
'C' had to win in the final game to draw level on points with 'B' and force a final deciding game. It was a hard fought and even contest, so much so that Duncan Perrin on Team 'A' was moved to exclaim at its end, "Oh, at least it was a draw", conveniently side-stepping the fact that Mince's injury-induced goal-hanging had proved fruitful, with one low right-footed shot past Keeper Sid.

League Table and Results Summary:
Game 1: Team 'A' 0 Team 'B' 1
Game 2: Team 'B' 2 Team 'C' 3
Game 3: Team 'A' 0 Team 'C' 1
Game 4: Team 'A' 1 Team 'B' 2
Game 5: Team 'B' 3 Team 'C' 0
Game 6: Team 'A' 0 Team 'C' 1
| | | | | | | | | | |
| --- | --- | --- | --- | --- | --- | --- | --- | --- | --- |
| Pos. | Team | P | W | D | L | F | A | GD | Pts |
| 1. | B | 4 | 3 | 0 | 1 | 8 | 4 | +4 | 9 |
| 2. | C | 4 | 3 | 0 | 1 | 5 | 4 | 0 | 9 |
| 3. | A | 4 | 0 | 0 | 4 | 1 | 5 | -4 | 0 |
And so, with Teams 'B' and C' tied on 9 points, goal difference was deemed an inappropriate and unsatisfactory method of deciding the ultimate victors, and Team 'A' consequently steeled themselves for watching an absorbing Final Match.
To continue the Match Report, click here.
To see the post match photos, click here.
To return to Allstars 2012, click here.