Match Report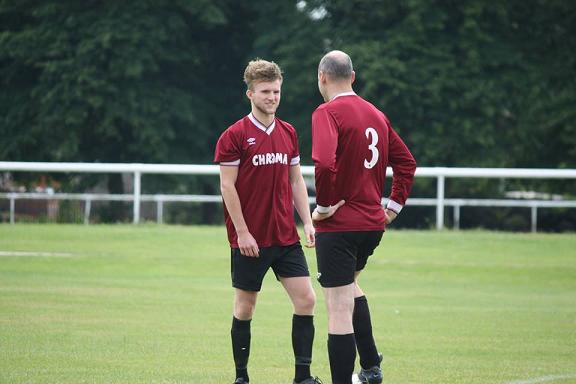 Kick Off - Mark and Steve pose for the cameras.
Despite their efforts to 'intimidate', Team Billy couldn't open the scoring, Quarter 1 ending 0-0. A cagey and competitive opening 20 minutes with both keepers in command of their boxes, and successfully marshalling their defences. Skilful teenagers Mark H and Harry F (the Duracell bunnies) set the pace of the game, but were constantly rebuffed by the twin towers of Deslick and Jez in the Tangerine defence, both of whom continued to wisely ignore Cookie's instructions throughout the game. Indeed, Cookie himself seemed to take a personal exception to his own instructions anyway, attempting to play in every position simultaneously.
WebMaster takes them on (sort of).
Q2 also somehow ended 0-0, with two close shaves. Sid saving Andrew's blushes from an own goal by header, and Sheff having to reply on a close personal relationship with the referee to save him from an early bath at one point. After the beautifully floated free kick from Mince, awarded after John was robustly (perhaps cynically) felled by Sheff, Cookie managed a spectacular close range double miss. First, a header and then a rebound shot that shuddered the cross bar.
Cookie awaits his double miss, as the ball is floated in.
Both these Cookie misses though were surpassed in their incompetent splendour by a Mince 'header' from a Graham cross on the left. With only Billy to meet, all the WebMaster had to do was tap either side of him, but he misjudged the power and height of the cross and was unable to change his decision to attempt a header come what may, the ball having reached the floor by the time his bald pate connected. Billy chuckled as he gathered the rolling ball. More amusement came his way with a couple of Jackson attempts at mid-air volleys, although he'd have the last laugh later on. Team Excalibur would come to rue those missed chances in the first 'half'.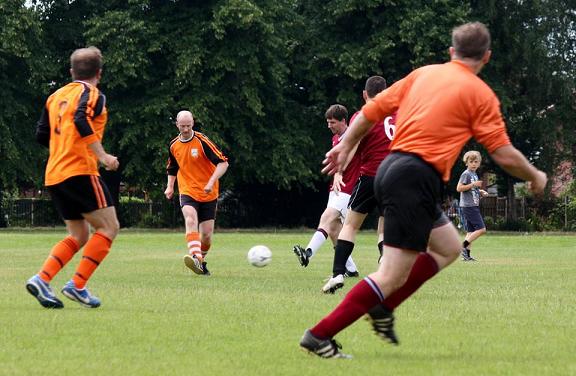 Ref Mikey looks on as Mince threads a ball through to Andy R.
To continue the match report, click here.
To return to Allstars 2014, click here.
To return to the start of the match report, click here