Match Report #2
Stanley awaits his Allstar debut from the subs bench.
Team Sid started well, taking a 2-0 lead thanks to Andrew McKinlay who should've bagged another brace, and Cookie missed a sitter. It was only back to 2-1 by the end of the 3rd quarter, but by the end of the game, Team Billy had prevailed 2-5, as their relatively younger team took over in the wilting sunshine. Andy Richie scored twice, one from a superb Lucia corner, before her brother Mark netted one, and fellow teenager, Harry Freeman slotted home a penalty after Deslick had attempted a double leg amputation when tackling in the box. Two identification mysteries remain from this game. The 5th Team Billy goalscorer and the odd stranger who spent the 1st half running up and down the far touchline and, we can only assume, still remains disconcertingly at large.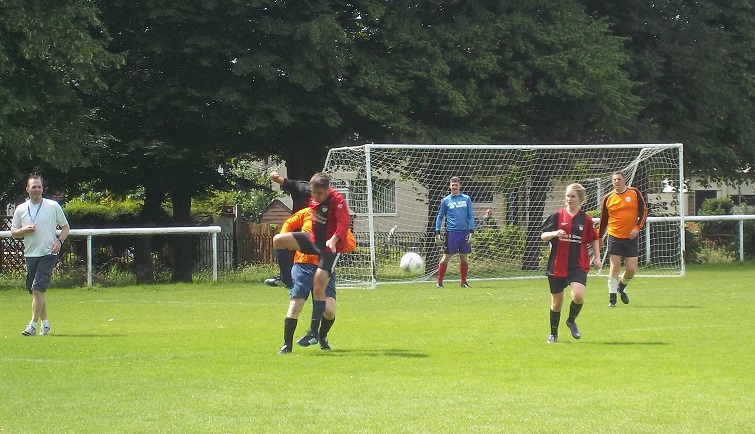 Sheff wins the ball.
One interesting early feature of this year's game was Billy the Fish's "headless chicken" approach to thwarting attempts on his goal, advancing prematurely at every available opportunity as the Tangerines bore down on his goal. This only presented the Tangerines with lobbing material, which Andrew grabbed for the opening goal, and provoked a stream of Anglo-Saxon from Max. Billy was unapologetic though, citing, with some evidence, his defence's reluctance to run back after gallivanting upfield.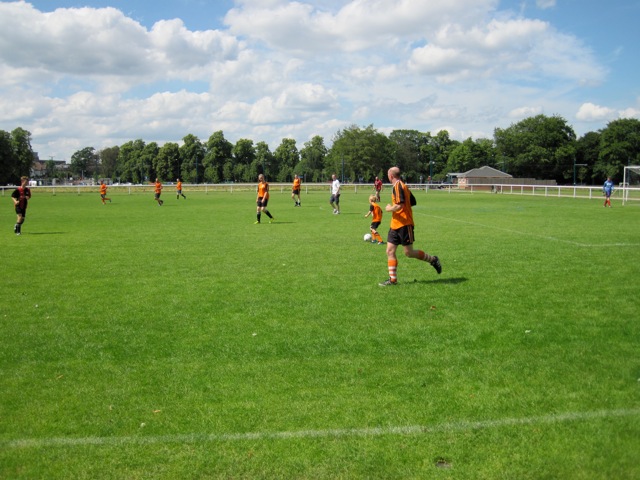 Action Stan.
To continue the Match Report, click here.
To see the post match photos, click here.
To return to Allstars 2015, click here.